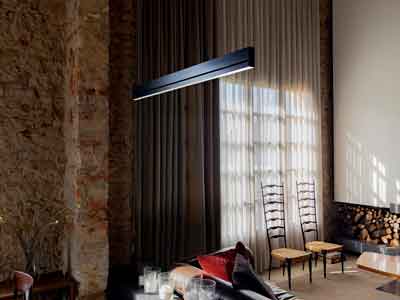 Having launched RAIL in 2019, KSCAPE has had the luxury of providing exceptional solutions for large offices to solve noise pollution as well as provide a complete audio and light solution for video conferencing rooms, museums, training facilities and residential projects where sound and illumination are essential. RAIL is the world's first architectural lighting system with integrated professional audio.
At ISE 2023 Barcelona, KSCAPE will present a new model of RAIL with a complete 'plug n play' lighting and audio solution via Casambi Smart Lighting control. The Casambi solution is based on the state-of-the-art wireless technology, Bluetooth Low Energy, creating an optimal solution in terms of ease of installation and functionality with minimal additional hardware and deployment costs. On top of Bluetooth Low Energy, the Casambi technology provides a mesh network where all the intelligence of the system is replicated in every node.
With RAIL, you will be able to control all your lighting needs through Casambi's easy-to-use app with a smart user interface or with DALI. Casambi can be connected seamlessly into the internal smart building automation system such as Crestron, Lutron or Control 4 via a remote gateway. KSCAPE can now provide the ultimate 'plug n play' light and audio solution when combined with the new K-array KA-04 amplifier with 4x 150W channels at 4Ω, the KA14 or the KA28 capable of providing high quality sound via cloud technology.
In addition to Casambi, RAIL will offer tunable white that enables designers to significantly improve interior environments such as offices, residential and commercial. Light can be automated to follow the natural circadian patterns of daylight with dynamic LEDs that can illuminate from 2700K to 5000K; softly rising in the morning, gradually brightening to a midday peak, then dipping down to a warm glow in the evening. Programming light levels in such a way have proven to bolster employee attentiveness, productivity, and even physical wellbeing. Tunable white enables forward-thinking companies to lean into these findings, and demonstrate their commitment to creating a healthy, happy workplace while avoiding costly and time-consuming retrofits and reinstallations.
The latest additions to the RAIL family combined with K-array technologies provide a simple solution for designers who face new challenges where audio and light are essential to the project.
For more information on these and any other K-array Group products, please visit https://kgear.it/en/ or visit us at ISE 2023, stand 7F350
The K-array group is a renowned manufacturer of innovative pro audio solutions comprising three brands - K-array, KSCAPE and KGEAR - with its global headquarters in Florence, Italy. Founded in 1990, the company invests its 33 years of knowledge, passion and resources in the revolutionary design and manufacture of highly efficient, ultra-compact, innovative, audio-based solutions that produce unparalleled performance to meet the challenges faced by consultants, designers, integrators and sound engineers today.