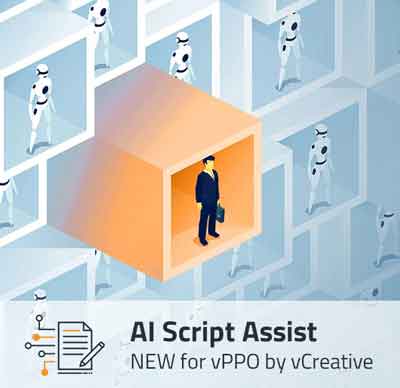 vCreative is excited to bring a practical efficiency boost to media sales teams with the official launch of AI Script Assist, powered by ChatGPT-4 technology. Integrated into vPPO, their Paperless Production Order software, AI Script Assist is designed to lend a hand in the copywriting process, so your Advertising Executives (AE's) can allocate more time to their core strengths and concentrate on what they do best – selling.
Available as an add-on for vPPO customers, AE's can access this tool directly within vPPO, eliminating the need to toggle between apps so your team can devote more time to delivering top-notch service to clients, from the first conversation to closing the deal.
Efficiency is key in the dynamic media landscape, and AI Script Assist delivers exactly that by taking on the early stages of crafting content – it's like having a quick-start button for your campaigns. AE's can use the AI-generated content to jumpstart their creative process, while they direct their energy to building relationships and driving sales.
"AI Script Assist is a testament to vCreative's commitment to providing practical solutions that empower sales professionals," says Mary DelGrande, CEO of vCreative. "It's about getting the job done efficiently, providing quality copy to clients, and freeing up time for more revenue-generating activities."
Dale Thornhill, COO of Commonwealth Broadcasting adds that "AI Script Assist has made a real difference for our production teams. It's easy to use alongside vPPO, helping our AE's save time on writing copy and focus more on selling."
Curious about how AI Script Assist can fit into your team's workflow? Find out more and schedule a demo here to see how this new, time-saving feature can help streamline your sales process.