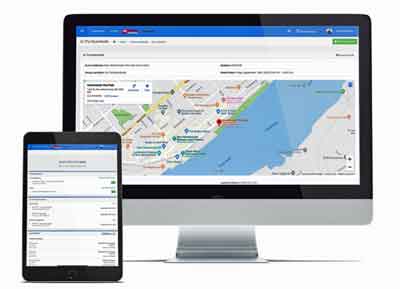 G Audio Networks, a Gen Media Partners company, is proud to announce it is now offering SPARC Media Hub for barter to radio stations throughout the United States. SPARC Media Hub is a superb radio station workflow system, designed for radio people by radio people. The all-in-one platform helps station teams stay organized, communicate more effectively, and eliminate costly mistakes.
"Every day, SPARC Media Hub continues to develop its product to be the best workflow system available," noted Rich O'Brien, Chief Development Officer for G Audio Networks. "Using customer feedback, researching the latest trends in media, and always thinking 'what's next?' are just some of the pillars that make SPARC a leading-edge product in the industry. We're very excited about bringing this superior product to radio stations."
"We're beyond thrilled to work with Rich and everyone at G Audio Networks." said Skyler Richard, co-founder of SPARC Media Hub. "G Audio Networks knows the industry unlike anyone else and is the perfect partner to help us make life easier for so many radio and media people all over North America."
SPARC Media Hub facilitates collaboration across teams and has a beautiful, easy-to-use design that is also mobile-friendly. The secure system backs up data regularly.
Radio stations who are interested in learning how SPARC Media Hub can increase efficiencies and eliminate costly mistakes can contact G Audio Networks' Rich O'Brien at (Office) 212-280-9338 or by email at This email address is being protected from spambots. You need JavaScript enabled to view it.
About SPARC Media Hub
SPARC Media Hub (www.sparcmediahub.com) is a unique and beautiful workflow system for radio stations. SPARC is an acronym that stands for "Sales", "Promotions", "Announcers", "Reception" and "Creative". Combining all departments into one place helps radio station departments communicate effectively, therefore improving efficiency and eliminating costly errors. Along with Creative, Promotions and Remote Workflow Systems, SPARC also has several other features such as Custom Prep Sheets, Built-In Texting, Phone Screener and more. A list of other features can be found by visiting: www.sparcmediahub.com/features.
About G Audio Networks
G Audio Networks (www.gognetworks.com) is a full-service network audio company delivering first in class sales, marketing, and affiliate solutions. Working with over 4,000 affiliates, we actively engage with over 250 million listeners every month. With offices in New York City, Chicago, Cleveland, and West Palm Beach, FL, G Networks offers a full array of audio services and programs to radio stations while also reaching into every top market in the country. G Audio Networks is a division of Gen Media Partners.
About Gen Media Partners
Gen Media Partners (www.genmediapartners.com) is an independently owned media advertising sales and content organization. The company has a large footprint in national and network radio, with a portfolio of highly respected radio brands, including: McGavren Guild Media, Local Focus Radio, Regional Reps, the Tacher Company, G Networks, HRN Media Network, GMP Digital, and Trucast Radio Automation & Distribution. It also partners with its sister out-of-home media companies, MG Malls and MG OOH. Gen Media Partners offers specialized expertise in general market, Hispanic, multicultural, and small and non-measured radio, with multi-platform advertising solutions. It operates 18 offices across the country, including in New York and Los Angeles.