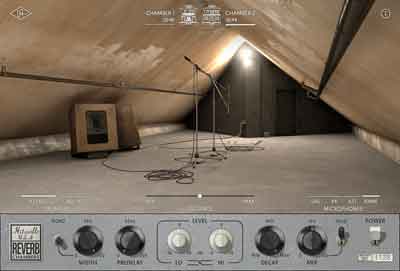 Universal Audio Inc. introduces Hitsville Reverb Chambers, the first authentic plug in emulation of the reverb chambers that shaped the Motown Sound.
Available only from Universal Audio, Hitsville Reverb Chambers gives music creators the same reverb sounds used by the producers of Marvin Gaye, Stevie Wonder, The Supremes, and more.*
Universal Audio's Hitsville Reverb Chambers is the only reverb plug in officially licensed by the Motown Museum, Hitsville U.S.A
Hitsville studio's attic-converted reverb chambers were essential to Motown's iconic sound. With help from the original engineers who built them, UA captured the full character and ambience of the spaces heard on some of the greatest soul recordings ever made.
"The sound of Motown music lives in all of our heads," says Bill Putnam Jr., CEO of Universal Audio. "The attic chambers at Hitsville were crucial to the emotion of those classic recordings, and we couldn't be happier to bring those same inspiring reverb effects to a new generation of music creators."
Hitsville Reverb Chambers features simple controls, allowing users to quickly dial in classic reverb sounds on vocals and instruments. And with Dynamic Room Modeling technology — the same used on UA's Capitol Chambers and Ocean Way Studios plug ins — users can go deeper by repositioning the chamber mics to explore new sounds beyond the original positions.
Available for Apollo/UAD hardware owners and UAD Spark subscribers, Hitsville Reverb Chambers comes alongside PolyMAX Synthesizer and C-Suite™ C Axe Noise Suppressor in UAD software v10.2.
Hitsville Reverb Chambers Key Features:
Get instant "Motown Sound" with the only reverb chamber emulations officially licensed by the legendary Hitsville U.S.A. studio
Dial in rich sounding ambience on vocals, drums, and more using two distinctly different custom built chambers
Customize your reverbs quickly with simple hi/lo crossover, width, depth, and mix controls
Explore new sounds by repositioning Hitsville Reverb Chamber's mics using UA's Dynamic Room Modeling
Available natively via UAD Spark subscription ($19.99/month) or as a perpetual license ($349) for UA Apollo and UAD Accelerator owners (UAD, AAX, VST, AU)
Owners of the perpetual UAD plug in can download the native version for free
New in UAD Software v10.2:
Hitsville Reverb Chambers — Detroit's historic reverb
PolyMAX Synthesizer — Fat analog tones from the golden age of polysynths
C-Suite™ C Axe Noise Suppressor — Dynamic noise suppression for guitar and bass
Compatible with UAD Spark, Apple silicon, macOS 13 Ventura, and Windows 11
*Use of artist name does not constitute official endorsement of Hitsville Reverb Chambers software.
Hitsville Reverb Chambers — $349
Learn more about Hitsville Reverb Chambers: https://www.uaudio.com/uad-plugins/reverbs/hitsville-reverb-chambers.html.