Audified is proud to advance its U73b Compressor effect plug-in and associated U78 Saturator spinoff with updated versions bolstered by gorgeous GUIs and additional improvements.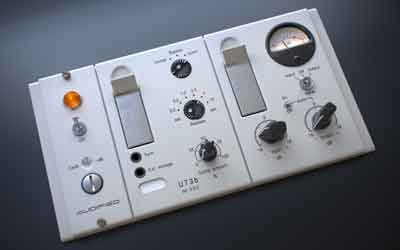 As a software application, software effect, and hardware processor developer with history — having over 20 years of R&D, education, and collaboration connected with its own notable name, Audified was first musically motivated to breathe new life into a certain Sixties-vintage all-tube vari-mu compressor/limiter by bringing its unique sound into the modern production world when releasing the first version of the U73b Compressor effect plug-in as an authentic emulation of its hardware namesake to widespread critical acclaim back in 2015. Ultimately, U73b Compressor succeeded in recreating one of few remaining original U73b units in existence, consummately capturing the musical magic of its analogue character from the outset, then repeating the feat to even greater effect the following year when a 'second-generation' version was seen and heard in DAWs (Digital Audio Workstations) worldwide, benefitting from an 'audiovisual' makeover with improved algorithms and a number of other notable improvements — including an eye-catching GUI, which was even switchable from the (authentic) German-only wording of its plug-in predecessor to English!
Fast-forward to today, then, and Audified's 'third-generation' of its impressive U73b Compressor effect plug-in — updated to version 3.0.0 — is bolstered by a gorgeous GUI acting as an easy-on-the-eye gateway to easily access that still-sought-after Sixties-vintage sound, as well as improved compatibility. Again, Audified has kept the unique sound as it was originally designed — despite having already added Input and Output gain controls (before and immediately after the emulated compressor circuit to assist with proper adjustment of the compression), albeit adding a Comp. amount control this time (to allow version 3.0.0 users to adjust the compression effect of the vari-mu stage).
Saying that, U73b Compressor (version 3.0.0) continues in its musical mission as a unique-sounding compressor suited to modern-day production, providing inspirational sound and intuitive workflow. An automatic (optional) output level control, additional high-pass filter (to switch between vintage and modern sound), external sidechain capabilities, and three program-dependent and three fixed Release times to choose from are among its impressive highlights.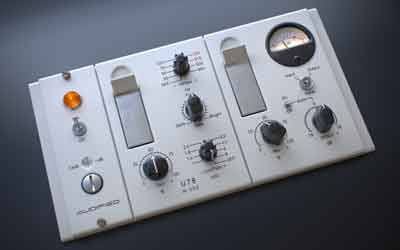 However, those producers sold on the unique sound of Audified's acclaimed U73b Compressor effect plug-in — perhaps intent on adding additional flavourings to their tracks, though — should seriously consider its U78 Saturator spinoff since it takes the former's authentically emulated analogue saturation to the next level with filters — HiPass sets the cutoff frequency of the high-pass filter, which comes before the saturation circuit in the signal path, ranging between 30 to 800 Hz; LowPass sets the cutoff frequency of the lowpass filter, which also comes before the saturation circuit, ranging between 1 to 8 kHz — added alongside a Tone control to dial in (or out) the unique tone filter, with lower settings producing Dark sounds with more low frequency content while higher settings result in Bright, sparkly sounds. Sharing some features and workflow with its U73b Compressor 3.0.0 sibling, the 'second-generation' U78 Saturator — updated to version 2.0.0 — also improves upon its 2016-released predecessor, bolstered by another gorgeous GUI, an improved saturation circuit, and also improved compatibility.
U73b Compressor is available for $149.00 USD and U78 Saturator for $149.00 USD. Both can be directly downloaded as AAX (64-bit), AU (64-bit), VST3 (64-bit) plug-ins with Native Apple Silicon support for Mac (OS X 10.11 and newer) and AAX (64-bit) and VST3 (32-bit and 64-bit) plug-ins for Windows (7-11). More at www.audified.com.