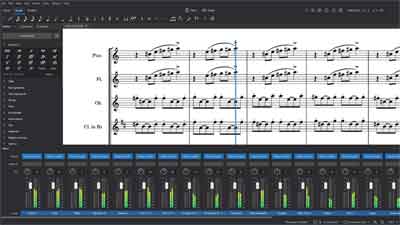 Muse Group announced the release of MuseScore 4. Easier to use and more powerful than ever before, the free music composition software's new customizable interface helps creators, including those with visual and mobile impairments, tailor their perfect score-writing experience.
With its new highly personalized interface, creators can choose between light, dark and high contrast themes according to their vision preferences. Composing music with faster keyboard navigation also allows users to quickly add lyrics, individual notes and chords under their scores, all on a screen that's easy to read. Legible notation coupled with screen reader support for those who need assistance reading information on a computer makes MuseScore 4 the perfect tool for high-quality and simple music creation. MuseScore 4 also features step-by-step dialogue to guide creators with visual disabilities to navigate the different tools and platforms. And most notably, for the first time, MuseScore 4 also includes braille export of compositions.
Perhaps the most exciting feature is MuseScore 4's orchestral playback. Here, creators can listen to their score played back by a full orchestra with just one click, a game-changing feature for amateur and professional composers alike.
MuseScore's heritage of making free music composition open to everyone is stronger with MuseScore 4's industry-defining features that prioritize accessibility for everyone, regardless of background and capabilities.
The newest improvements bring free notation software to a new standard, supporting users in doing what they love most. Muse Group understands the need to create high-quality, free tools that everyone can benefit from, with the hope to open up the industry and eliminate the entry barriers many face when it comes to creating music.
New Features
Designed for accessibility: With improved screen reader support, customizable high-contrast mode, enhanced keyboard navigation and braille export, MuseScore 4 erases many limitations from the music creation process.
New hallmark playback and VSTi support: The pioneering playback engine allows a hyperrealistic playback of the score, bringing orchestra sounds to users' fingertips at the touch of a button. VSTi plugin support can be applied to instruments using the new mixer panel with ease. The mixer allows users to easily switch between VSTi, SoundFonts and the Muse Sounds libraries, while also supporting VST effects.
New orchestral sample library and Muse Hub workstation: Introducing MuseHub, a new desktop app that integrates with MuseScore 4 and gives users access to Muse Sounds and MuseFX. Downloadable via Muse Hub, Muse Sounds is available for free and created specifically for notation. Users can benefit from a high-value sound library, with a collection of nuanced sets of sounds and realistic instruments performed by world-class musicians. Together with MuseFX, a collection of free sound effects and controls, you have even more possibilities to edit and customize your score.
New intuitive interface (UX/UI): An entirely new sleek interface makes working with scores faster and more intuitive. The application has been redesigned to be cleaner and easier to read with highly customizable UX and UI for a frictionless creation process. Users can customize the interface based on personal preference; choose between light, dark and high contrast themes, as well as the preferred accent color. The 'Home' tab now also includes video tutorials to help musicians learn how to compose with MuseScore 4 in seconds.
Significantly improved engraving: Reworked engraving quality and appearance transforms how users read and create scores. Carefully crafted by professional engravers, MuseScore 4 automatically produces legible and beautiful notation, with hundreds of adjustments and optimizations available. Users can focus on the music they're making with no lagging and legibility issues.
Cloud storage: Musicians can create their own portfolio of music at the touch of a button, sharing their compositions directly with the world's largest sheet music community on MuseScore.com.
Supported by parent company Muse Group, the new release of MuseScore 4 puts user experience at the forefront of digital music technology and ensures that creative expression is available to all based on true talent and passion for music, rather than on the basis of accessibility or affordability.
MuseScore 4 is available to creators globally for free at https://musescore.org/en. For more information about Muse Group and its platforms, visit https://mu.se/.
About MuseScore
MuseScore is a scorewriter for Windows, macOS, and Linux supporting a wide variety of file formats and input methods. It is released as free and open-source software under the GNU General Public License. MuseScore is accompanied by a freemium mobile score viewer and playback app, and an online score-sharing platform.
About Muse Group
Muse Group is on a mission to make music more accessible and inclusive. Through an ecosystem of the world's most popular software and communities for musicians, which include Ultimate Guitar, MuseScore, Audacity and StaffPad, Muse allows you to learn, create and share beautiful music with like-minded musicians of any level and background. Muse Group develops free open-source software for music composition and production, builds extensive content catalogs and continually innovates to improve the quality of life for the ordinary musician. This makes Muse Group the fastest growing company in Music Tech.