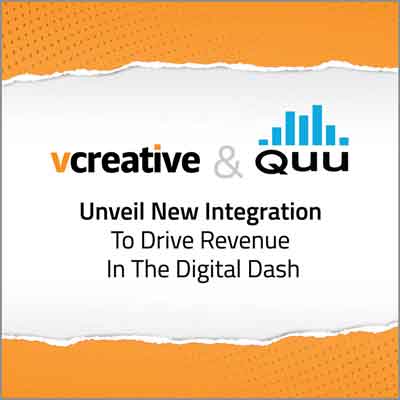 vCreative, the nation's leading provider of media production workflow solutions, and Quu Inc., a pioneer in adding dynamic visuals to radio broadcasts, have announced a new integration. vCreative customers can now publish messages on car dashboards for their clients that use Quu's advertising services.
Quu empowers radio stations to publish programming and sales messages on car dashboards as often as they want. These messages, called Visual Quus, are very powerful. They present a better user experience, are an easy upsell to radio's core product, and make ads more valuable and effective.
Now radio stations can produce and send Visual Quus via vCreative vPPO, the production workflow system used by 19 of the top 20 broadcasters for traditional and digital ad creation.
"We love that Quu brings new opportunities for radio to engage with listeners and drive incremental revenue," said Susie Hedrick, CEO of vCreative. "We're excited to bring this connection to our customers as part of our mission to provide unique and advanced services that save time and make money."
"This integration underscores our shared commitment to make radio more dynamic and profitable while making life easier for our customers," said Steve Newberry, CEO of Quu. "vCreative's broad adoption as the premiere workflow solution across our industry is unparalleled. It's the perfect time to expand our reach as vCreative begins its exciting next chapter under Susie's leadership."
For additional information, please visit www.myquu.net or www.vcreativeinc.com.
About Quu
Quu's patented technology empowers radio stations to schedule and publish dynamic programming and sales messages on car dashboards. Local and network radio use Visual Quus like text, logos, and images to engage listeners and generate immediate incremental revenue. With over six billion Visual Quus delivered in 2020, Quu makes radio look as good as it sounds.
About vCreative
vCreative is the nation's leading provider of media workflow solutions. Its cloud-based technology enables customers to thrive by eliminating errors and streamlining processes. vCreative helps to expand creative and promotional revenue by giving valuable time back to its users. vCreative serves more than 5,000 broadcast and digital media entities.