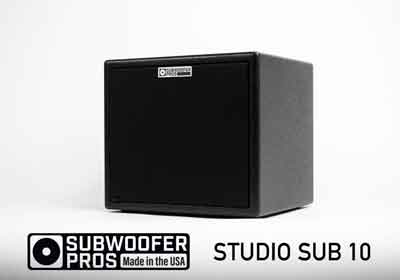 TransAudio Group, the U.S. distributor of high-end, professional recording equipment, is pleased to announce the new Subwoofer Pros Studio Sub 10, an ultra-compact 12" x 14" x 11.5" subwoofer with remarkably low distortion, an even frequency response, and an adjustable HF cutoff to work seamlessly with any size nearfield monitor. The sealed (i.e. not ported) and self-powered Studio Sub 10 produces high-fidelity bass reproduction down to 16Hz, and it is small enough to place anywhere in the control room in singles or multiples for different output volume and/or room mode taming. In an era where consumer playback systems have increased low end, the Studio Sub 10's brutally honest bass reproduction will allow engineers to more quickly create accurate recordings without guesswork.
"Other subwoofers sacrifice accuracy for volume or are way too large to fit in a typical control room," explained Brad Lunde, founder and president of TransAudio Group. "In contrast, the Subwoofer Pros Studio Sub 10 is purpose-built to produce flat, faithful low end between 16Hz and anywhere from 40Hz to 95Hz, depending on how the user sets it on the control. It's really small for a sub, so they can fit anywhere. The Studio Sub 10's competitive price point makes it possible to enjoy the sonic benefits of a distributed multiple sub system. Multiple Studio Sub 10s provide more accurate performance with several room locations versus a single subwoofer system using a single location.
Made in the USA, the Subwoofer Pros Studio Sub 10 uses a single ten-inch, high-excursion driver powered by a linear 300W amplifier and has a selectable low pass filter at 40, 60, 80, and 95Hz. A phase switch, a volume knob, and dual summing XLR line-level inputs make it easy to situate the Studio Sub 10 in any control room. A dynamic filter provides overload protection and the 95Hz filter setting includes INFRA technology enabling extended LF without a port. Weighing in at a modest 29 pounds, the Studio Sub 10 is capable of generating 93dB SPL at 1 meter at 40Hz.
The Subwoofer Pros Studio Sub 10 price is $1750 MAP in the U.S., and they are now available. More at www.transaudiogroup.com.