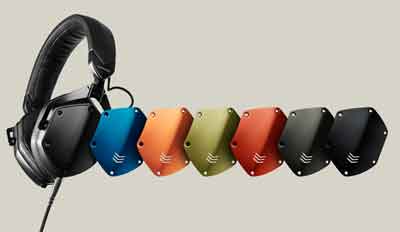 V-MODA announces the availability of the M-200 Custom Shield Kit, giving fans of the brand the ability to customize the look of their M-200 headphones. Known for creating premium headphones which can be customized via replaceable plates, or 'shields', V-MODA's new kit is tailored to fit the M-200, with the shields that can be customized with laser-engraved or color-printed designs.
Launched in November 2019, the M-200 were named CNET's "Best New Audiophile Headphones of 2020" thanks to their clean, refined and spacious sound, making them the perfect companion for spending time in the studio, working and streaming from home. M-200's accurate sound, weightless feel and comfortable fit with superior noise isolation will give you the space you need.
Now the M-200 Custom Shield Kit enhances the headphone's customization capabilities by providing six base shield colors to choose from, allowing users to express themselves on the most personal electronic in their creative setup. Atlas Blue, Rust Orange, Moss Green, Laser Red, Titan Gray and Brushed Black: these six new colors have been chosen to give fans a wide variety of choice when customizing their headphone, with their rich, classic tones ensuring they'll remain timeless and compliment them perfectly for years to come.
Each M-200 Custom Shield Kit contains two customizable aluminum shields of the chosen color, 12 screws to attach the shields to the headphone, and a tailored screwdriver which makes attaching the new shields simple and easy. The M-200 Custom Shield Kit is compatible with V-MODA's M-200. Please check www.v-moda.com/compatibility for a complete and updated list of compatible headphones.
When purchasing from the V-MODA site, the M-200 Custom Shield Kit can be customized even further via the online customization configurator. New ready-made designs, developed in V-MODA's Milanese studio, are now available for the M-200, along with the "Upload Your Own" concierge service where customers can opt to be paired with one of our expert designers to tailor their own logo or design to the shield of their choice.
V-MODA M-200 Custom Shield Kit is available now at www.v-moda.com and will be available at retail partners worldwide in the next few weeks (starting from $40, €40).