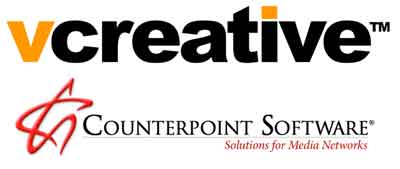 vCreative's parent company, Banyan Software Inc, announced that they have acquired Counterpoint Software, a leading media technology platform for audio networks. Counterpoint provides the critical end-to-end revenue, inventory and affiliate management solution for radio, sports, satellite, digital and podcast networks. Counterpoint software is used by more than 1,700 media entities and 10,000 radio stations.
"We are pleased that Counterpoint has joined vCreative in our growing media technology portfolio. Our intent is to provide infrastructure, investment and leadership that allows for expansion," said David Berkal, Banyan Software CEO. Jinny Laderer, vCreative's CEO, adds "Counterpoint is essential technology for many of our customers and partners. By joining as sister companies, we can execute a complete integration strategy and create a holistic environment."
vCreative and Counterpoint will operate independently, collaborating on strategies and solutions to improve media industry workflow. Counterpoint's Executive VP and General Manager, Mike Rooney will lead the company, reporting to Susie Hedrick, vCreative's President/COO. Anna Dow will serve as Executive VP, Customer Support and Services. Founders Jim Foley and Dick Levine will continue in advisory roles for the company.
"Counterpoint Software processes more than one billion dollars in ad revenue each year. Our customers trust us with this responsibility and we are now passing the torch to a trustworthy and committed company," said Jim Foley, Counterpoint's founder and CEO. "Banyan is the perfect home for Counterpoint's customers and employees moving forward."
About Counterpoint: Counterpoint provides an end-to-end business operating system for audio networks handling more than 1.5 billion dollars in advertising revenue and more than 4 million commercials per week. 10,000 network affiliate radio stations interface with Counterpoint software to receive spot information and submit certificates of performance. Additionally, Counterpoint Software manages over 10,000 live sporting events each year.
About vCreative: vCreative is the nation's leading provider of media workflow solutions with more than 6,000 station clients. Its cloud-based technology enables customers to thrive by eliminating errors and streamlining complex processes. It provides software solutions to radio, TV, network and digital media companies. vCreative helps to expand creative and promotional revenue by giving valuable time back to its users. vCreative clients include: Entercom, Univision Radio & TV, Townsquare, Cumulus Media, Urban One, and many others.
More at www.vcreativeinc.com and www.counterpoint.net.