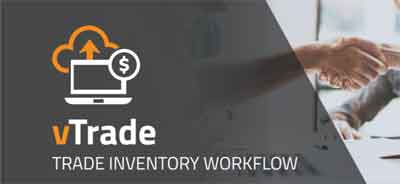 vCreative, radio's leading provider of media workflow software solutions, introduces vTrade — the industry's first software solution developed to provide companies with the ability to easily track, manage, audit and report on trade inventory, eliminating the risk of financial loss due to wasted or expired trade.
The use of trade or bartering has existed since the inception of the media business. Alternative forms of payment are accepted in addition to or in lieu of cash to create a marketplace aimed at attracting innovative partners. Creative campaigns that encourage audiences to engage with both the station and the business or brand through merchandise giveaways, free tickets, coupons or other experiences lend to excitement and loyalty for audiences.
vCreative partnered with clients to solve a problem that exists across the industry. Melissa Mitchell, CPA and Corporate Controller at Bonneville International and heavy vTrade user says that, "vCreative's system allows us to keep real-time and accurate inventory of company assets. All transactions and approvals are now time-stamped which makes recordkeeping and reporting a breeze. Having the ability to track trade usage by client, AE, agency, and category cuts down on potential losses due unused or expired trade and the automated workflow makes the multiple departments that are involved with approving, accepting and managing trade more efficient and effective."
"The broadcast industry is in a period of rapid transition, and we are here to enable our industry to successfully bridge to the new future," said vCreative CEO Jinny Laderer. "With vCreative's vTrade solution, we have created an offering that will bring CFOs and business managers the ability to fully assess the value of the trade they accept and monitor the effectiveness of its use."
About vCreative
vCreative is the nation's leading provider of media workflow solutions with more than 6,000 station clients. Its cloud-based technology enables customers to thrive by eliminating errors and streamlining complex processes. It provides software solutions to radio, TV, network and digital media companies. vCreative helps to expand creative and promotional revenue by giving valuable time back to its users. vCreative clients include: Entercom, Univision Radio & TV, Townsquare, Cumulus Media, Urban One, and many others.
Learn more and schedule a demo at vcreativeinc.com