iZotope, the experts in intelligent audio technology, is pleased to announce it has launched its "Headroom" podcast.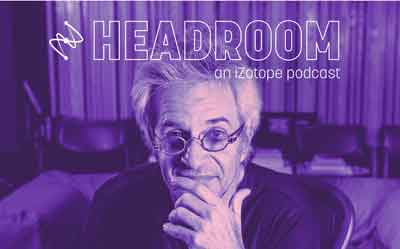 "Headroom" is a podcast presented by iZotope that covers audio technology, hosted by iZotope's Education Director Johnathan Wyner, who is also a GRAMMY®-nominated professional mastering engineer and educator. The weekly podcast will feature conversations with experts across the audio and music worlds on the impact of audio tech and exciting new developments.
In the first episode of "Headroom" Wyner talks with retired Berklee Executive Officer David Mash. You can listen to the podcast on Spotify or Simplecast.
About iZotope
At iZotope, we're obsessed with great sound. Our intelligent audio technology helps musicians, music producers, and audio post engineers focus on their craft rather than the tech behind it. We design award-winning software, plug-ins, hardware, and mobile apps powered by the highest quality audio processing, machine learning, and strikingly intuitive interfaces. iZotope: the shortest path from sound to emotion.
Founded in 2001, iZotope is based in Cambridge, Massachusetts. To learn more, visit us at www.izotope.com and connect with us on Facebook, Twitter, and Instagram.