Waves Audio announces Native processing support for Waves SuperRack, the next generation of plugin processing software for live sound and broadcast engineers.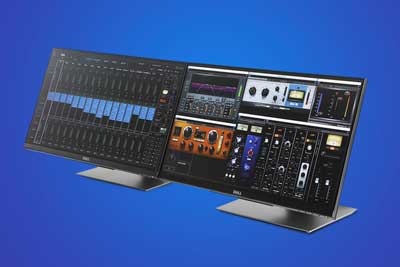 The Waves SuperRack live plugin rack now supports Native processing. Native mode lets you run Waves plugins on the CPU power of your Windows/Mac computer, using any ASIO/Core Audio interface, without a SoundGrid server connected.
SuperRack Native & Dugan Automixer for Flawless Corporate AV Installations:
Use SuperRack Native and Waves Dugan Automixer, to optimize mixing of multiple mics in live speaking and corporate forum installations. The Dugan Automixer plugin, automatically controls the gains of multiple mics in real time to maintain a consistent output level across all mic channels and reduce feedback, noise, and comb filtering effects from adjacent microphones. This enables perfectly matched crossfades between each speaker, without signal compression or unwanted sonic artifacts caused by noise gates.
This setup is ideal for a wide range of AV installations, including conference rooms, corporate presentation theaters, live news panels, talk shows, and any scenario involving scripted or non-scripted dialog between multiple speakers.
Waves SuperRack is a cutting-edge plugin rack which runs both Native and SoundGrid processing, lets users run up to 128 audio channels through multiple instances of Waves plugins with near-zero latency and offers endless customization options that make it easy for you to tailor the application to your very own mixing workflow.
SuperRack is a natural extension of your mixing console, designed from the ground up for quick setup time, flexible touch-friendly workspace and unlimited workflow customization. FOH, monitor, broadcast, and AV engineers can now run plugins in real time, customize their workspace with floating windows, set extended-scope snapshots, and run any live show with more speed and confidence than ever before.
SuperRack Native features:
View and control multiple plugin instances simultaneously
Multitouch-friendly graphic interface
Expand your workspace to up to four monitors
Easily tweak small plugin parameters with a "Touch & Slide" fader
Quickly access up to 12 plugins per snapshot via the Hot Plugins panel
Map application and plugin controls to MIDI & computer keyboard for quick hands-on access
Adjust multiple racks simultaneously with the "Linking" function
Selectively recall snapshots via extended scope filter
Compatible with any ASIO/Core Audio Interface
Does not require a SoundGrid DSP Server or I/O
Includes a deep integration with Dugan Automixer for AV installations
Import MultiRack sessions into SuperRack with ease
If you already own SuperRack, you can update your software to the latest version to get this new feature for free by updating via Waves Central.
To learn more, visit www.waves.com/SuperRack.