CEO and President, Betty Bennett says "We listened to our customers and the market about the overwhelming desire for Symphony sound quality and the ability to choose your workflow in one interface. Today we are proud to announce Symphony Desktop. We have combined patented technologies developed over the past three years with new features being introduced today in creating the ultimate interface, Symphony Desktop. At $1299.00 Symphony quality is within your reach."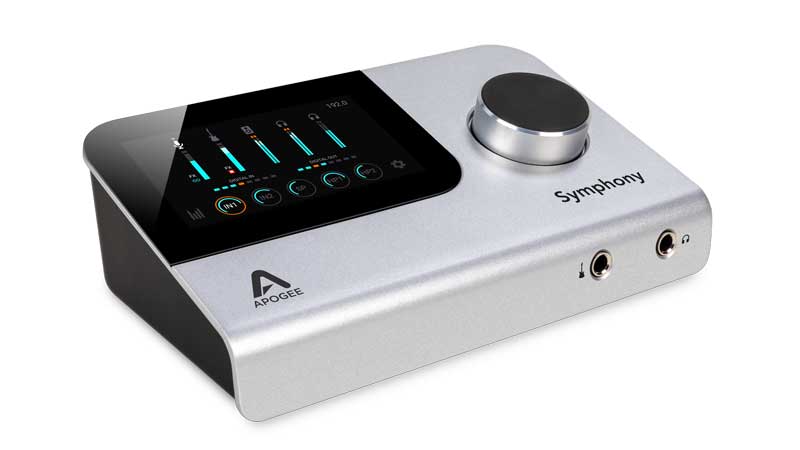 Mic Preamp Emulation with Apogee Alloy
Apogee's all-new Alloy Mic Preamp emulation processing gives you the warmth and tone of coveted British Solid State and American Tube analog preamps. The Apogee Alloy Mic Preamp (AMP) emulation offers analog circuitry plus DSP processing to create the richest, most authentic audio modeling available in an audio interface. Critical aspects of each preamp model such as input impedance, transient profile and distortion characteristics are first implemented in the analog domain, followed by precise and accurate refinement in DSP, for a hybrid result that's greater than the sum of its parts.
Hardware DSP and New Plugin FX With Symphony ECS Channel Strip
Included with Symphony Desktop is the New Symphony ECS Channel Strip - Tuned by Bob Clearmountain. Symphony ECS includes EQ, Compression and Saturation controls that let you create the optimal blend of channel FX for tracking vocals or acoustic instruments.
Symphony Desktop FX Complete
For just $100 more, Symphony Desktop FX Complete includes DualPath and native versions of Apogee's EQP-1A, Pultec MEQ-5, ModEQ 6, ModComp and Opto-3A plugins.
Flagship Symphony Sound Quality With Low Cost Portability
Symphony Desktop for Mac and Windows packs the legendary audio quality of Apogee's rack-mount Symphony I/O Mk II into an elegant, portable 10 IN x 14 OUT desktop interface. With Symphony Desktop, musicians and producers are empowered to record, overdub and mix with the music industry's most respected AD/DA converters and mic preamps. Like every product in the Symphony line, Symphony Desktop benefits from Apogee's core mission to design the finest performing audio interfaces using cutting edge circuit optimization and analog and digital components to consistently improve the performance of our products.
Symphony Desktop Goes With Your Recording Flow
With Symphony Desktop and Apogee FX, there's no need to adapt your creative workflow to the restrictions of your audio interface and plugins, you choose the way you want to work. Print and Dual Path link modes utilize Symphony Desktop's hardware DSP processing to provide zero-latency monitoring when tracking. Dual Path Link mode adds unique flexibility to adjust FX applied to the track later in the mix, eliminating the need to commit to printing FX when recording.
Thanks to unique hardware-software integration in Logic Pro X, users can take further advantage of Apogee's FX Rack and DualPath Monitoring workflows with the Logic Pro X Direct Button and Audio Device Control view, all adjustable from a single window in Logic.
Features
Flagship Symphony Sound Quality
10 IN x 14 OUT simultaneous channels of audio
Cutting edge components and circuit design deliver detailed and pristine sound quality
A/D & D/A Resolution up to 24bit/192kHz
2 Advanced Stepped Gain mic preamps, up to 75dB of gain, variable impedance
Apogee Alloy Mic Preamp emulation (Analog processing + DSP modeling)
Built-in hardware DSP processing of Apogee FX Rack plugins
Includes British Solid State mic preamp emulation
Includes 50s American Tube mic preamp emulation
Includes Symphony ECS Channel Strip - Native and hardware DSP versions with EQ, Compression and Saturation
Includes Symphony Reverb - Native version
Flexible, zero latency plugin workflows: Print, Monitor and DualPath Link
1 Instrument input with variable impedance and colored FET input stage for electric guitar
Analog Inputs: 2 x XLR-1/4" combi (mic/line), 1 x 1/4" (Hi-Z)
Analog Outputs: 2 x 1/4" (monitor)
2 assignable headphone outputs: 1 x 1/4", 1 x 1/8"
Digital I/O: 2 x Optical Toslink (ADAT,S/PDIF)
Computer Connectivity: USB over type C Connector
Dynamic touch screen display for comprehensive hardware control
Software control: Symphony Desktop Control application
MIDI over USB
Compatible with iPad Pro, iOS 13
System Requirements: macOS 10.12 or later, Quad Core i7 Processor or higher; PC: Windows 10 Anniversary update or later, Quad Core i7 Processor or higher
Availability: Q1 2020. Price: $1299 - Symphony Desktop; $1399 - Symphony Desktop FX Complete (includes Pultec EQP-1A, Pultec MEQ-5, ModEQ 6, ModComp and Opto-3A plugins, a $499 value).
More at Apogeedigital.com.