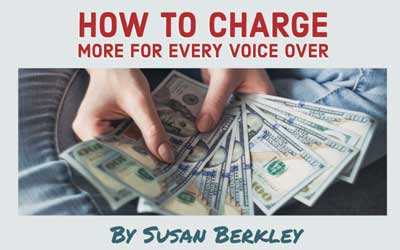 Let's talk about the money side of voice over, shall we? (This might be a little sensitive for some people so fasten your seatbelt.)
Unless you're a Hollywood celebrity, it's unlikely that you will be paid superstar, 'pro ball' rates for the voice overs you do. It's not that you're not worth it. It's because the nature of the market has changed.
Voice buyers can now purchase voice over services on internet casting sites like Fiverr, Upwork and the pay to play subscription sites.
In some cases, you get what you pay for, but often, the quality of the talent is quite good and if the customer is patient and willing to sift through a lot of poor quality duds, they'll eventually find what they're looking for.
Now this is no reason to wring your hands, curse newcomers and bitch that the good ole' days are gone. Things are just different now.
The internet might have opened the floodgates for new talent, but it's also caused exponential multi-billion dollar growth and demand for voice talent in the commercial, E-learning and audiobook niches.
So if you're willing to adapt to the changes and do things a little differently, it's still quite possible to make some very good part time money in voice over. Stick with me and I'll show you how!
For example, a proven way to earn more in voice over is to increase the value of every job you do.
I've got an Inside Voice Over training video for you on how to do that. Take a look...
Susan Berkley is the founder of Greatvoice.com, a top voice-over artist and signature voice of Citibank. A former radio personality and creator of the Mic To Money™ voice-over marketing system, she specializes in helping broadcasters book big ticket voice overs. Contact: This email address is being protected from spambots. You need JavaScript enabled to view it. or 800-333-8108 x227.