Carl Tatz Design LLC (CTD), the award-winning studio and monitoring design firm, has announced two new professional near-field reference monitors as part of its line of acclaimed PhantomFocus Precision Monitoring Instruments.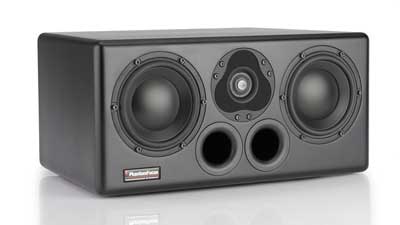 The PFM HD-1000 High Definition and the PFM UHD-1000 Ultra-High Definition Professional Monitors are intended for audio professionals demanding the highest performance in dedicated mix room or control room/tracking installations. Designed to be used exclusively in tandem with CTD's acclaimed on-site installed PhantomFocus System, both monitors offer superb vocal rendition, the ability to handle high SPLs (115dB continuous) with lightning-fast transient response, articulate detail and PhantomFocus's trademark sonically holographic pinpoint imaging at all listening levels.
The PFM HD-1000 is a passive near-field monitor in a low-profile D'Appolito design facilitating console/listener placement. With accelerated response time, phase linearity and tightly controlled mid-bass response, the PFM HD-1000 reveals effortless power, accuracy and non-fatiguing performance beyond that of traditional high- and mid-frequency driver motor capability. It features two proprietary Morel® 5.63-inch (143.51 mm) "Uniflow™" aluminum diecast woofers with large 3-inch voice coils and a proprietary 1-inch (23.4 mm) ScanSpeak high-frequency tweeter with patented phase plug design. The monitor is available with the passive Straight Wire™ crossover and an optional bi-amp version. The PFM HD-1000 Monitor dimensions are HWD 8.2" x 17.8" x 12.2" (208.28 mm x 452.12 mm x 309.88 mm), and it weighs 22.2 lbs. (10.06 kg).
The flagship PFM UHD-1000 is offered only in a bi-amp configuration and shares all the inherent qualities of the PFM HD-1000 Monitor, while its powerful bi-amplified configuration and woofer complement, considered to be amongst the finest in the world, introduces a depth of field and articulate sonic command heretofore unknown in a professional near-field monitor, enhancing performance, power and headroom, and expanding on its effortless non-fatiguing precision character. Using the same ScanSpeak® tweeter as the HD-1000, it is distinguished by its high-end ScanSpeak dual 5.5-inch (139.7 mm) proprietary woofer complement, adding increased depth, speed and articulate sonic authority. The PFM UHD-1000 Monitor dimensions are HWD 8.2" x 17.8" x 12.2" (208.28 mm x 452.12 mm x 309.88 mm), and it weighs 24.1 lbs. (10.93 kg).
Both models feature a unique self-bracing trapezoidal cabinet with internal cross-bracing and tuned damping, and a pro-industry-first custom-integrated pistonic decoupling system from IsoAcoustics®.
Both monitors and recommended amplification are now available at www.phantomfocus.com, along with full specifications.