Waves Audio introduces the eMotion LV1 Proton 16-Channel Live Mixing System. This is Waves' most affordable complete live mixing system, ideal for 16-channel live setups that aspire to deliver pristine world-class sound quality.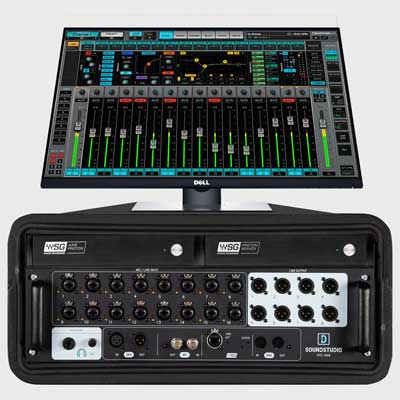 With the eMotion LV1 Proton 16-Channel Live Mixing System, it is now the time to completely change the way you think about your live mixing system. Never before has such a system been offered for an unprecedented cost of under $5K.
Forget about heavy, cumbersome mixing boards. You can now switch to a lightweight digital system, with everything you need to deliver captivating live sound experiences at a cost-effective price, easy portability and a small footprint. Best of all: the eMotion LV1 Proton system gives you access to the world's largest selection of audio plugins, which you can run directly inside your eMotion LV1 mixer, all for under $5000.
This complete system includes the eMotion LV1 16-channel live software mixer, a SoundStudio STG-1608 SoundGrid®-compatible stagebox, a SoundGrid Proton server, the Axis Proton Waves-optimized computer, a 24-inch Dell touchscreen, a 1U rack shelf, an 8-port network switch and network cables, plus three plugins specifically designed and optimized for live sound: eMo F2 Filter, eMo D5 Dynamics and eMo Q4 Equalizer.
The touch-optimized eMotion LV1 software mixer features 16 mono/stereo channels, each with a plugin rack that can host up to eight SoundGrid-compatible plugins for real-time processing. The included SoundStudio STG-1608 is a sturdy SoundGrid stage box, featuring 16 mic/line inputs with high-end preamps that can be controlled directly from the LV1 mixer.
All audio coming from the stage and through the plugins is processed on the included super-compact SoundGrid Proton server. Send processed audio out to the PA system and back to the stage via eight line outputs at lightning speed: Only 0.8 ms at 48 kHz.
For rock-solid stability, the Axis Proton computer is optimized to handle eMotion LV1's processing power and perform reliably in the most challenging environments. It features an Intel Celeron processor, 4 GB of DDR4 RAM, one HDMI port, one display port, three USB ports, and a rugged 1U half-rack chassis.
Complete with a 24-inch Dell touchscreen, an eight-port SoundGrid switch, CAT6 Ethernet cables, and a 1U rack shelf, this combo gives you everything you need to run 16-channel live shows with big, pristine, studio-grade sound at an affordable price.
LV1 Proton features:
Everything you need to set up a SoundGrid-powered live show
Complete cost-effective mixing solution
eMotion LV1 16-channel (mono/stereo) mixer with Waves eMo plugins
SoundStudio STG-1608 stagebox (16-in/8-out)
SoundGrid Proton Server
Axis Proton Waves-optimized computer
1U Rack Shelf
24-inch Dell touchscreen
Eight-port network switch and CAT6 Ethernet cables
Includes MyMon – a mobile app for stage monitoring control
To learn more, visit https://www.waves.com/hardware/emotion-lv1-proton-16-ch-live-mixing-system.