Waves Audio introduces the SoundGrid® Proton Server, the latest in Waves' series of SoundGrid servers that enable audio engineers to mix plugin-rich sessions in ultra-low latency. Designed for 16-channel setups that aspire to deliver superior sound quality, the SoundGrid Proton Server is Waves' most affordable SoundGrid server yet.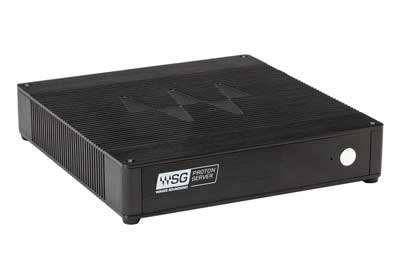 This small but mighty unit is compatible with the Waves eMotion LV1 16-stereo-channel live mixer and is ideal for adding processing power to any live environment – whether in a fixed setup or on the road.
With an Intel® Celeron® processor and 4 GB of RAM dedicated to plugin processing, you can use the eMotion LV1 16-channel mixer with eMo plugins (F2, Q4, D5) on all channels – at just 50% capacity, and at an ultra-low latency of 0.8 ms at 48 kHz. Combine the Proton server with Axis Proton and the eMotion LV1 16-stereo-channel mixer to build an eMotion LV1 Proton system – the ultimate compact live mixing system for a 16-stereo-channel setup. The half-rack 1U slick aluminum casing fits perfectly in a 1U rack shelf when paired with Waves' Axis Proton Waves-optimized computer.
SoundGrid Proton features:
Affordable price and exceptional performance for small venues
Ultra-low latency: as low as 0.8 milliseconds at 48 kHz
Use with any SoundGrid audio interface for plugin processing during recording or live mixing
Durable aluminum casing (half rack 1U)
CPU: Intel® Celeron®
RAM 4 GB
Power: DC12V 3A
6-month warranty
1x 1GbE Ethernet ports
1x HDMI port
3x USB ports
To learn more, visit https://www.waves.com/hardware/soundgrid-proton.