SPLAT! Radio Imaging has announced the launch of their all new, and completely redesigned website and imaging platform. It's the industry's first imaging portal designed entirely to the specifications and input of users. It features intuitive, time-saving applications and a logical, easy to navigate interface.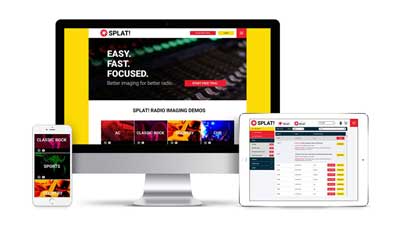 Developed with the most advanced web technologies and providing world-class radio imaging, targeted content, and creative copy, the SPLAT! platform allows users to work more quickly so they can get imaging on the air sooner.
The buzz on SPLAT! has been instantaneous, and it's already receiving high praise from New York to Los Angeles and all points in between.
"This is the arsenal that you want to push your station forward," said Don "D2thaC" Clair, Imaging Director for Urban One, St. Louis. "The team at SPLAT! has the open minds to advance and embrace change, this means nothing but progress with new and exciting imaging," Clair added. "SPLAT! will be a power player not only among radio stations but also among production managers and imaging directors alike."
A perennial industry leader in original imaging, SPLAT! has continued to evolve with the needs of radio producers. "SPLAT! has helped me image top stations in Tampa, Houston, Miami, Atlanta, NYC, Jacksonville, Louisville, Philadelphia, Birmingham, Dayton, Tulsa, San Antonio and more," said Tim Kelly, Imaging Director with Cox Media Group. "SPLAT! delivers the elements that make consistent Top 5 stations! Easy to use, and a great team to work with."
The launch of the all new SPLAT! is the culmination of almost two years of gathering real-time feedback, suggestions, comments, requests and ideas from nearly 500 SPLAT! radio stations, then refining the content and data into a highly focused, easy to use imaging platform.
"It's all about what users want and need, that's what matters most," said Dave Marsh, President and founder of SPLAT! "At a time when many things in radio are getting more complicated, producers are very clear about what they want - an imaging service that is fast, focused, easy to use and provides unique imaging that doesn't sound like everything else. That's what we created."
"I think I just shed a little tear," said Bob Harmon, Imaging Director at KKVR-FM and KFXR-FM, summarizing his first experience using the all new SPLAT!, "this is what imaging dreams are made of."
SPLAT! Radio Imaging offers free trials and complimentary downloads at www.splatonline.com.
Stations signing up for SPLAT! now get the rest of 2019 for free.