Apogee's premium plugins (previously only available in Apogee FX Rack) are now available as standard native effects. Apogee FX plugins run in AU/VST/AAX formats in any compatible DAW on macOS (Logic Pro X, Ableton Live, Pro Tools, Cubase, Studio One, etc.) with no Apogee hardware required. This release includes all of Apogee's current plugins; Pultec EQP-1A, Opto 3-A, ModEQ 6, ModComp and the new Pultec MEQ-5.
Superior Sound Quality - From Modern to Modeled Vintage Hardware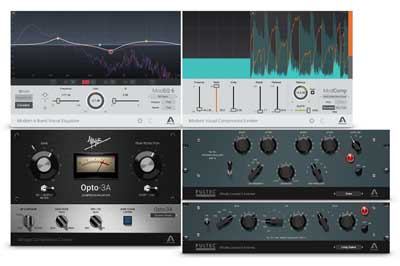 Crafted by the same team that designs all Apogee hardware and software products, Apogee FX plugins offer superior sound quality and performance. From visually modern interfaces that allow you to precisely shape and contour your sound to meticulously modeled vintage hardware that is so accurate it has been endorsed by our partner Steve Jackson of Pulse Techniques, maker of Pultec hardware. Apogee plugins will quickly find their way into your daily recording tool kit.
Apogee FX Plugins, FX Rack and DualPath Monitoring
Apogee FX plugins offer unprecedented flexibility when processing at any point of your workflow. Open individual Apogee FX natively in your DAW, without your Apogee interface connected. Create your favorite Apogee FX signal chains in the FX Rack for powerful and lightning fast mixing. And if you are using an Apogee Ensemble or Element series interface, link Apogee FX Rack in your DAW to hardware DSP FX in your Apogee interface while recording to experience near-zero latency and simple operation with DualPath Monitoring.
For more info visit www.apogeedigital.com.