Roland releases GO:PIANO with Alexa Built-in, the company's first musical instrument equipped with Amazon Alexa.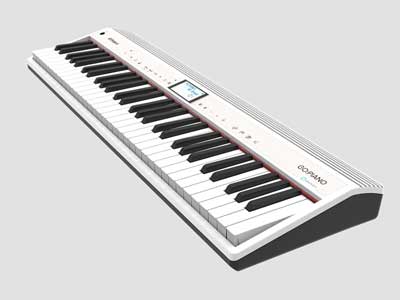 Committed to inspiring the thrill of creative expression, Roland continually seeks to develop new technology solutions that make playing musical instruments easier, more accessible, and more enjoyable. Integrating Roland's leading piano sound and features with intuitive operation via Alexa voice commands, GO:PIANO with Alexa Built-in presents an exciting new way for everyone to learn and have fun with the piano.
Featuring voice control over nearly any function, GO:PIANO with Alexa Built-in makes complicated panel operations a thing of the past. Piano players can ask Alexa to call up any of the 40 onboard sounds, without ever having to take their hands off the keyboard. Dozens of other common operations can be accessed with voice commands, like turning the metronome on/off, changing up the beat, and more.
GO:PIANO with Alexa Built-in also works as a standard Alexa device, allowing users to listen and play along to songs from Amazon Music and other streaming services through the keyboard's high-quality sound system. With Amazon Music, Prime members have access to ad-free listening of 2 million songs, and customers can also subscribe to Amazon Music Unlimited, which provides access to more than 50 million songs and the latest new releases. Users can also take advantage of their favorite Alexa skills for everyday home tasks such as setting alarms, checking the weather, and many more.
With the combined technologies in GO:PIANO with Alexa Built-in, users can fast-track learning like never before. Alexa sharpens music sensibilities with ear training and builds knowledge with trivia on composers and famous music. And by connecting a smartphone or tablet via Bluetooth, players can use Roland's Piano Partner 2 app for iOS and Android to learn music scores and boost skills with fun exercises and musical games.
When the player has mastered a piece or composed a new idea, they can ask Alexa to record their performance. Recorded songs are always available in cloud storage via a wi-fi connection and can be played back through the piano using voice commands.
GO:PIANO with Alexa Built-in inspires players with expressive sounds derived from Roland's premium pianos. Each note responds like a fine acoustic grand, sparking creativity and stimulating ongoing musical growth. Electric pianos, organs, and many other sounds are also on board, allowing the user to explore different styles and expand their musical experience.
GO:PIANO with Alexa Built-in features a lightweight, portable design (4 kg/8 lb. 14 oz.) that's easy to move around the home. Battery operation is also supported for mobile playing. (To use the Alexa feature and wi-fi connectivity, the instrument must be powered with the supplied AC adaptor.)
Availability & Pricing: The Roland GO:PIANO with Alexa Built-in is available now on Amazon and from authorized dealers for $499.99. To learn more about GO:PIANO with Alexa Built-in, visit www.Roland.com.