A great choice for music lovers, content creators, and gamers, the new PreSonus Eris E3.5 BT and Eris E4.5 BT active media reference monitors deliver the same studio-quality sound and accurate frequency response professional Eris-series studio monitors are known for, in an elegant, compact form ideal for home use. Featuring both Bluetooth® and analog connectivity, onboard EQ controls, and a headphone amplifier, Eris BT-series monitors make it easy to cater your listening experience for your personal taste.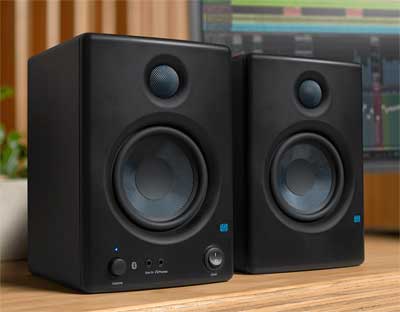 Just like professional Eris-series studio monitors, Eris BT-series media reference monitors utilize a woven composite low-frequency driver that provides tight bass you can feel, as well as a cleaner overall sound. Both models feature a one-inch silk-dome tweeter that produces a smooth and refined sound, accurately reproducing transients and high frequencies. The tweeter is designed to radiate sound with a fairly wide pattern, creating a large optimal listening area or "sweet spot" so you can move around the room and still hear an accurate stereo image.
With 25 watts per side of onboard power, the Eris BT-series monitor speakers pack a serious punch, while still delivering clear, accurate audio with a convenient front-panel volume control. An onboard EQ lets you adjust the high- and low-frequency content to taste, so your Eris BT speakers will always sound their best.
Eris BT-series monitors accept audio from almost any source, thanks to four different types of audio inputs. Fast, reliable, stereo Bluetooth 5.0 connectivity lets you wirelessly stream sound from a smartphone, tablet, laptop, or other Bluetooth source. When you want a wired connection—say, from a computer, turntable, TV, or other line-level source—Eris BT-series monitors have you covered with rear-panel, left and right ¼-inch TRS and RCA inputs and front-panel 1/8" stereo input. A loud, clear, front-panel headphone amplifier lets you work and play in stealth mode, without disturbing your housemates.
Eris BT-series active media reference monitors are available in both 3.5- and 4.5-inch woofer sizes and are now at your favorite PreSonus dealers at U.S. street prices of Eris E3.5 BT $129.95/pair and Eris E4.5 BT $229.95/pair. For more information visit www.presonus.com/products/Eris-Studio-Monitors.