Audified is proud to announce the ToneSpot Voice Pro, providing all the tools to mix any kind of vocal track to sit in the mix wonderfully with only one plug-in.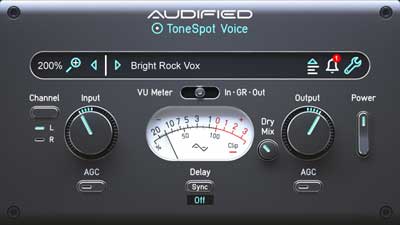 Achieving an amazing-sounding vocal is crucial to today's anticipated and accepted music production standards — so much so, in fact, that it is arguably the production pivot on which the balance of any successful song surely rests. Indeed, it is often the key to success in almost every style of music. After all, the lead vocal track is usually the main guide for the listener throughout the song. Though there are many different approaches and aesthetics of vocal production from which to choose, they share some similarities. Musically, many steps of getting the right vocal mix are based on the same acoustic principles. Put it this way: whether mixing old school swing or the latest pop sensation, some equalisation and compression, plus some kind of ambiance, are likely to be the order of the day. Depending on the genre, this could conceivably range from a subtle touch through to heavy-duty sound processing. An applicable approach might well be carefully chosen, yet achieving a desired result is not necessarily a straightforward or speedy process. Professional mix engineers can spend years honing their creative craft. Which is perhaps the way it should be. But there is another way. Which is exactly where Audified's self-explanatory ToneSpot Voice Pro clearly comes into its own.
Of course, having already refined its innovative ToneSpot one-shot channel processing plug-in concept to suit specific instrument tracks with several product releases that have been well received throughout the year, it should come as little surprise to learn that ToneSpot Voice Pro is suited to mixing any kind of vocal track — from fanciful-sounding singing through to throaty screaming, and anything in between! Backing vocals, vocal layers, and harmonies will blend with the greatest of ease. Equally at home when being used to mix the spoken word, ToneSpot Voice Pro puts users in control of achieving an amazing-sounding vocal with minimum fuss.
Fortunately for anyone putting it to the test, ToneSpot Voice Pro provides ten powerful 'modules' alongside all-important Input and Output sections. Those ten 'modules' represent the usual vocal mix workflow with the audio signal being fed through them in series from left to right, as follows: Character (determines the basic flavour of the sound and affects many of the subsequent sections); Distortion (replicates real valve distortion circuitry based on a vintage guitar amp, perfect for executing extreme vocal techniques); Saturation (is an advanced model of a real valve saturation circuit that brings about an agreeable higher harmonics punch); DeEssAir (removes unwanted vocal sibilance while bringing back some 'air' at the same time); Shaping (shapes the tone with an eight-band musically-labelled EQ); Punch (is quite a strong compressor with slower attack time and a medium compression ratio); Surgery (is an extreme surgical peak EQ with two identical filters and up to -50 dB attenuation); Smash (is a peak-eating levelling compressor with faster attack time and a gentle compression ratio); Effects (comprises Delay and Reverb, the two most important time-based effects for handling any vocal processing task); and Finalizer (is the mastering section of the ToneSpot Voice Pro processing chain; sometimes a voice just needs that final touch — some sweetness or fatness, for example). Each can be separately switched on or off, as needed, and an AGC (Automatic Gain Control) is included in both the Input and Output sections, setting the plug-in's signal level to 0 dBVU.
Ultimately, then, ToneSpot Voice Pro rounds out Audified's acclaimed ToneSpot series, following in the footsteps of several specific plug-in predecessors to provide the tools to allow anyone to realise their musical ideas. After all, great musical ideas need great sound in this day and age, where the quality of sound and sound aesthetics can often determine the success of the music. A great mix can help a great song to become better — better able to compete in today's radically changing music industry, in other words.
With Audified's ToneSpot Voice Pro-augmented ToneSpot series, anyone can quickly produce well rounded, better-sounding music mixes from now on. On the face of it, spotting the perfect-sounding tone has never been more achievable than today, applying Audified's innovative ToneSpot one-shot channel processing plug-in concept to bass guitars, stringed acoustic instruments, percussion, electric guitars, and — now — vocals!
ToneSpot Voice Pro is available now for $99.00 USD. Visit https://shop.audified.com/products/tonespot-voice-pro for more.
About Audified
With more than 20 years of R&D, education, and collaboration connected with its notable name, Audified actively develops software applications, software effects, and hardware processors for musicians, audio engineers, and installed audio. As such, the company's collective vision is to improve and streamline music production workflow, adding a new aesthetic value to their customer's work while helping them to achieve the best possible results.