Audio-Technica is now shipping its new Engineered Sound line of modular microphone systems with several dozen variations of the ES925 gooseneck microphone. All ES925 modular microphone components are interchangeable with each other, allowing users to configure each microphone system from a choice of three different polar patterns ("C,"/cardioid "H"/hypercardioid and "ML"/MicroLine designations); four power module options ("DS5," "FM3," "FM5" and "XLR" designations) and six different gooseneck lengths — a total of 72 new offerings.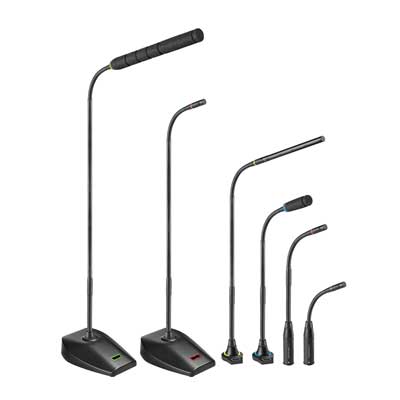 Each new ES modular microphone system includes a microphone element, gooseneck and a power module. Compatible low-profile microphone elements are offered in one of three polar patterns: cardioid, hypercardioid and MicroLine, respectively offering 120-degree, 100-degree and 90-degree acceptance angles (an omnidirectional element is available separately). The interchangeable condenser microphone elements provide full-range, natural sound.
The desk stand, flush-mount power modules, and all mic element housings feature highly visible, two-state RGB LED status indicators. The 5-pin desk stand is also equipped with a touch-sensitive capacitive-type user switch with local and remote switching options and a UniSteep® filter that provides steep low-frequency attenuation to improve sound pickup without affecting vocal reproduction quality. The 3-pin and 5-pin flush-mount power module options mount unobtrusively in tabletops and come with isolators that provide mechanical dampening of the mounting surface. Both versions are equipped with a capacitive touch switch to enable local muting of the microphone. The 3-pin XLR power module version plugs into any standard XLRF-type connector or mounts to 5/8"-27 stands using the included quick-mount stand adapter. The XLR version allows LED control when used with ATUC series products and the AT8699R desk stand. All four power module versions include UniGuard® RFI-shielding technology.
For more information, please visit www.audio-technica.com.