Orban, the leader in world-class audio processing, has announced the availability of SmartRadio cloud-based and web-based processing technology. SmartRadio will be demonstrated at NAB in booth N4120.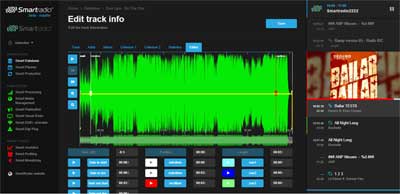 SmartRadio is a next-generation cloud-based data-driven radio platform developed by Broadcast Partners of The Netherlands, and was designed to deliver "radio as a service." It consists of several components: multichannel Smart Production, Smart Publication, Smart Analytics and data-driven Smart Tools. Together these components create a modern "start-to-end" modular radio production environment. In this collaboration between Orban and Broadcast Partners, SmartRadio utilizes the Orban OPTICLOUD™ audio processing engine to provide cloud-based and web-based audio processing. The platform enables remote management of both content and audio processing for cloud-based radio programming for online, DAB+ and HD Radio™ radio stations, as well as for radio broadcasters with multiple transmission sites. OPTICLOUD offers three levels of audio processing depending on stations' needs and budget, ranging from basic entry-level processing up to and including latest Orban's loudness algorithms.
New to SmartRadio is Smart Analytics, a powerful tool that enables users to analyze usage, engagement and impact of the SmartRadio service in use at a radio station. The tool provides useful notifications relating to storylines on social media, suggesting possible actions for increasing engagement of and potential interaction with followers. It also provides data on social media campaigns, noting which ones are generating the most engagement and creating the most lasting impact.
"SmartRadio helps broadcasters manage not only their listenership, but engagement with their audience," said David Day, Orban's President. "Broadcast Partners is very well-known in Europe, and we are excited to partner with them on this new cloud-based processing available through our OPTICLOUD platform. Through our exclusive distribution relationship with Broadcast Partners, we can now provide virtual radio studios and cloud-based audio processing for radio and streaming broadcasters in the Americas. This truly is 'Tomorrow's Cloud-Based Radio that's Here Today.'"
For all information about SmartRadio, please visit www.smartradio.nl.