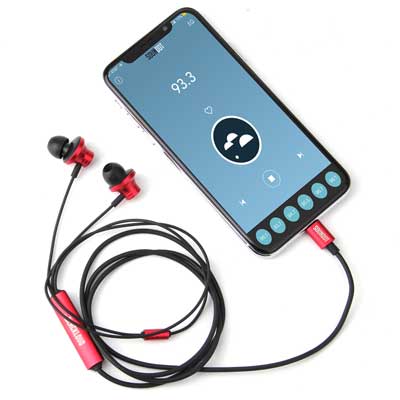 Blackloud, a developer of products that enhance smart life, announced availability of its SOUNDOT AF1 FM Headset for iOS Lightning devices, the industry's first in-ear headset combining a built-in FM receiver with digital signal processing (DSP) technology for customizable sound effects. Featuring a user-friendly iOS app and premium lossless sound quality for everyday use (listening to music, watching videos, answering calls, activating Siri), the SOUNDOT headset also lets users directly access compression-free FM radio anywhere in the world via the FM chip embedded in its control box, without requiring internet connectivity (Wi-Fi or 4G/LTE) or an activated FM chip in the iOS device itself. Blackloud's SOUNDOT AF1 is an Apple® MFi™ certified accessory, and its SOUNDOT CF1 (for USB Type C Androids) is under development and expected in 2019.
"We developed the SOUNDOT headset family so that consumers can enjoy powerful and clear sound performance every day, and to ensure they never miss a beat if they lose internet," said Mr. Chih-Hsu Yen, executive vice president, Blackloud. "Even without internet users can tune directly into FM radio to listen live and compression free to sports, music, weather and even emergency broadcasts." Listening to FM radio via the built-in chip uses no mobile data, saves battery life, and eliminates the delays of streaming.
Guaranteed FM reception prepares users for crises if connectivity fails. Craig Fugate, former head of FEMA, cites a lesson learned. "I believe everyone's emergency kit should include something to access broadcast radio, be it a battery-operated / hand-crank radio, or an FM-enabled device. It is easy to trust that our smartphone, the internet or pay-TV will be there when we need critical information. However, our cellular or TV systems often go down, leaving us in the dark literally and figuratively. It happened to me during Hurricane Irma. Good thing I had a battery-powered radio – it was the only news source I had."
Premium sound quality and customizable sound effects for everyday use:
SOUNDOT AF1 FM Headset for iOS features:
Dual drivers -15mm woofer and 7mm tweeter - deliver dynamic sound range from rich bass to detailed treble
Built-in FM receiver accesses FM radio using the headset's wire which serves as an antenna
SOUNDOT app "control center" customizes the listening experience (sets sound effects) and controls the FM tuner (scans and saves stations to one of six presets)
3-button remote switches between phone or video calls, apps, the FM tuner and activates Siri
Comfort fitting in-ear headset
Inline microphone
Apple® MFi™ (Made-for-iPhone/iPad/iPod) certification
Customizable sound effects set in the app and saved into the headset travel with it for users to enjoy across other music apps and iOS devices:
6-band equalizer (EQ) delivers broad spectrum sound
11 music settings optimized for acoustic, classical, dance, electro, jazz, Latin, metal, piano, pop, rock and R&B
Bass, treble and vocal adjustments
3D surround sound for surround-encoded shows and movies
Users can take a picture of the QR code on the box to start an automatic download of the SOUNDOT app, or search for "SOUNDOT" in the App Store.
Visit Blackloud at the RadioShow (booth 73) in Orlando, September 25-28, and the NAB Show (booth N1325) in New York, October 17-18. Blackloud is developing an affiliate program for radio stations, which will be announced at the RadioShow.
Pricing and Availability:
The SOUNDOT AF1 FM headset for iOS devices is now available for US$79.89 from https://www.blackloud.com, as well as from Amazon, Newegg, Sears, Walmart, and other online retailers. Initial units are red, with white and silver options planned by year end. The earbuds come fitted with a medium-sized cushion, with small and large cushions also provided. Each package also includes a quick guide and carrying pouch.