Having recently made (sound) waves with its passive CLA-10TM effectively bringing 'back' to market an iconic studio reference monitoring mainstay, affordable high-quality audio products producer Avantone Pro is proud to announce availability of its complimentary CLA-200 Studio Reference Amplifier — a classically-designed Class A/B amplifier (also developed in close collaboration with GRAMMY Award-winning mix engineer Chris Lord-Alge, to whom it not only owes its 'initials' but also its very existence).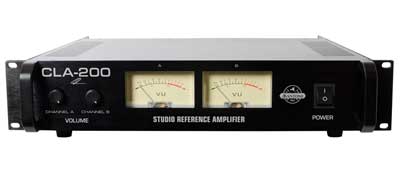 Avantone Pro's CLA-200 Studio Reference Amplifier is a dynamic, high-output, high-resolution, full-range system built the old school way. Working with GRAMMY Award-winning mix engineer Chris Lord-Alge — whose signature is boldly blazoned across the CLA-200 Studio Reference Amplifier's no-nonsense front panel, particular care was taken to create an amplifier in the traditional studio style, with generous VU meters, high-quality Japanese components, and a serious toroidal transformer linear power supply.
Seriously housed in a standard 2U rack-mount chassis, the amplifier itself can generate over 200 watts per channel into an 8 ohm load — under testing it delivered a powerful 208 watts into 8 ohms, actually, and can run at one third power without thermal fault, making it a perfect fit for medium to large speakers in serious studios. Still better, because it is convection cooled, it can be used in the same room as the monitors themselves. The CLA-200 Studio Reference Amplifier is designed to be used in a studio environment requiring high-power output with no fan noise, in other words.
Words paint a pretty picture when it comes to the CLA-200 Studio Reference Amplifier, as borne out by some serious specifications, including a quoted 20Hz-20kHz +/- 0.5dB frequency response; 200W at 8 ohms, 300W at 4 ohms, or 500W bridged into 8 ohms output power; <0.05% distortion; >94dB signal-to-noise ratio; 20KΩ (balanced) and 10kΩ (unbalanced) input impedance; 28V/us slew rate (at 1KHz); 0.775V (0dBU) input sensitivity (1KHz); <0.1% total harmonic distortion (1KHz); <0.1% intermodulation distortion (at 10% rated power 1KHz); -70dB crosstalk; 200W 8Ω stereo power (1KHz); 300W 4Ω stereo power (1KHz); and 500W 8Ω bridge power (1KHz).
In the case of the CLA-200 Studio Reference Amplifier, specifications only tell part of the story. So who better to pick up the thread then, than the talented individual to whom it owes its very existence? Ears are always wide open, it seems. Says Chris Lord-Alge: "I have mixed 20,000 songs on my classic studio monitors and they have become my companions and part of what I do! They are truly the sound of hits! Every good pair of monitors needs a powerhouse of an amplifier to give you clear results. So now, thanks to Avantone Pro and the ears of CLA, we're making available for the first time the return of a classically-designed amplifier for your studio. No longer do you need to take a chance on something used, old, and unreliable — the CLA-200 is here!"
Here it is, indeed — designed to be paired with CLA-10TM classic studio reference monitors, yet works equally well with just about any passive studio monitor requiring serious dynamic range. Really low distortion, steady performance under harsh conditions, and an open and transparent sound make the CLA-200 Studio Reference Amplifier an obvious choice for discerning studios... just ask Chris Lord-Alge. And he should surely know, having applied his Midas (mixing) touch to just about anyone who's anyone!
The CLA-200 Studio Reference Amplifier arrives at Avantone Pro's US Dealers in late December, priced at $799.00 USD.
For more in-depth information, please visit the dedicated CLA-200 Studio Reference Amplifier webpage here: http://www.avantonepro.com/cla-200.php.