Waves Audio offers Waves TRACT Loudspeaker Correction, a powerful corrective EQ and system time alignment tool for live PA systems or studio environments. Together with Rational Acoustics' Smaart Audio Analysis software, TRACT makes correcting a sound system's EQ quick and easy, yielding perfect results every time.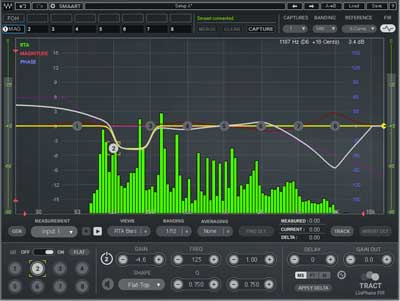 With Rational Acoustics' Smaart® v8 or Smaart Di v2 audio analysis software running, the TRACT plugin allows you to view frequency and phase response in real time. Quickly take and merge snapshots of your system's transfer measurements, and have TRACT instantly calculate a corrective FIR EQ curve.
Select from four reference frequency response curves, or save your own reference presets, allowing you to bring your familiar mixing canvas with you to any venue. You can augment TRACT's calculated FIR with up to eight bands of low-phase IIR filter shapes, including bell, low/high shelves, flat-top, Butterworth and Linkwitz-Riley, tilt and all-pass.
The plugin is very low-latency with low phase distortion, and also includes a linear-phase FIR component. Use it in a live setting with Waves MultiRack, the Waves eMotion LV1 mixing console, or in your DAW.
With Waves TRACT Loudspeaker Correction and Rational Acoustics' Smaart, you can easily, quickly and reliably get any sound system to perform at its very best, venue to venue, night after night.
Expected availability: June 2018. www.waves.com.