Roland announces Aerophone GO, a unique and affordable digital wind instrument that's simple to operate and fun to play. Featuring traditional sax fingering, a variety of onboard instrument sounds, headphones monitoring for quiet practice, and more, Aerophone GO is ideal for saxophonists and other wind players of all experience levels. It's also a great first-time solution for anyone who's ever dreamed about playing a wind instrument. Aerophone GO features onboard Bluetooth® as well, providing access to extended functionality via the free Aerophone GO Plus and Aerophone GO Ensemble apps.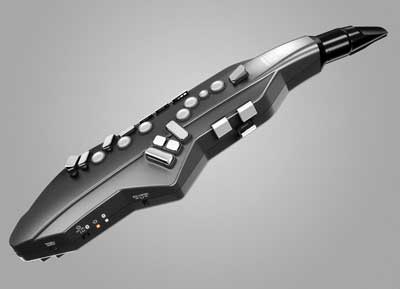 Combining traditional feel and response with innovative Roland digital technologies, Aerophone GO is an expressive modern instrument that's versatile, practical, and inspiring. It's light and runs on batteries for easy mobility, and features 11 high-quality onboard tones that include soprano, alto, tenor, and baritone sax variations, plus flute, clarinet, violin, synth lead, and more. And by connecting to the Aerophone GO Plus app, many more sounds are available to play.
Aerophone GO is a great choice for beginners, but it's also compatible with traditional sax and recorder fingering, making it an easy transition for experienced players. A sensitive mouthpiece-mounted breath sensor also functions as a bite sensor, supporting expressive techniques like vibrato and pitch. And thanks to its digital sound engine, Aerophone GO allows players to instantly transpose keys without having to change their fingering.
The instrument includes an onboard speaker for personal monitoring and intimate performances, and it's also possible to connect to external amplification for broader sound coverage. Another great benefit is the ability to play quietly through headphones, enabling users to practice anytime and anywhere without disturbing others.
Aerophone GO is a powerful standalone instrument, but things become even more exciting when connecting to a mobile device via Bluetooth. The Aerophone GO Plus app allows users to play along with favorite songs and offers several functions to aid learning, including slowing the tempo and looping song sections for detailed study. The app also provides access to 50 additional sounds and lets users adjust performance settings like breath control/bite sensor sensitivity, fingering, and more.
Another cool free app is Aerophone GO Ensemble, which allows up to seven Aerophone GO players to perform together wirelessly for practice, performing, and classroom learning. Once connected, each group member can access 19 different sounds on the smartphone and choose the one they want to play. The combined performance is mixed in the app, and can be amplified by connecting the smartphone to a small monitor speaker such as Roland's battery-powered CUBE Street EX.
To learn more about Aerophone GO and the companion Aerophone GO Plus and Aerophone GO Ensemble apps, visit www.Roland.com.