PreSonus® is shipping a new generation of its classic FaderPort™ USB production controller that incorporates elements from the company's award-winning FaderPort 8. A superior solution for anyone who mixes in the box, the new and improved FaderPort provides a 100 mm touch-sensitive, motorized fader for writing fades and automation in real-time and 24 buttons covering 40 different functions, all in a compact chassis that easily sits on any desk.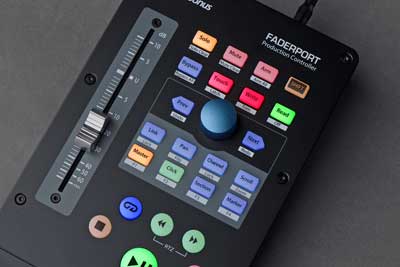 Quickly zoom in on audio files for editing. Control track levels with the touch of a finger. You even get a footswitch input for hands-free start/stop (footswitch not included). With the new FaderPort, you'll enjoy the fastest, most efficient workflow you've ever experienced.
A unique Session Navigator section provides easy access to eight mission-critical functions for maximum flexibility. Use the large 360-degree encoder button and companion buttons to edit and mix with greater efficiency and speed. Scroll through your timeline, using the encoder, or work measure by measure with the arrow buttons; zoom in and out on the timeline with the encoder and make your tracks larger or smaller; navigate and drop markers; and maintain constant control of your main level. Once you start using the Session Navigator, you'll wonder how you mixed without it.
The FaderPort features an optimized HUI mode for Pro Tools as well as custom MCU operation modes for Logic Pro X, Cubase, and Ableton Live guaranteeing a superior experience. No driver installation is necessary; just plug the control surface into a USB port and take command of your mix. But the FaderPort is downright magical when used with PreSonus Studio One®. (Studio One Artist is included.) You'll be amazed at how much faster you can work.
The new FaderPort is available at PreSonus dealers for a U.S. street price of $199.95. For more information, please visit www.presonus.com/products/FaderPort.