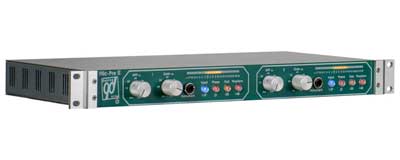 Like the Mic Pre One, the Mic Pre EQ, and the Mic Pre IV, the Daking Mic Pre II circuitry is based on a classic console design of the 80s with some upgrades: Variable High Pass Filters on each channel, Jensen input transformers, class "A" amplification, extremely high headroom (+24), and a single-sided 48V power supply.
"Geoff Daking continues to bring honest high-end analog signal processing equipment to users who can appreciate the difference – at a price that is unbeatable," said Brad Lunde, founder and president of TransAudio Group. "In addition to the Daking Mic Pre II's tremendous headroom and musical sound, users will appreciate its rather special high-pass filter. It has a continuously-variable cutoff between 10Hz and 200Hz, drops at 12dB per octave and seems to have a magical ability to clean up the muck while making what remains sound even better. It is extremely helpful to DAW users who inadvertently record subsonics that muddy up tracks and mixes"
In addition to the features mentioned above, the Daking Mic Pre II has 70dB of gain, switchable polarity, a twenty segment combo VU and "peak hold" LED meter, a 20dB pad with constant reflected impedance, switchable phantom power, direct 1/4-inch instrument inputs on the front panel, and balanced XLR and 1/4-inch outputs.
Units will begin shipping in February 2018.