World-wide since 1982, New York Festivals International Radio Program Awards is now open for entries. For 2018, New York Festivals offered a category reorganization addressing the growing spectrum of platform and genres. The competition added additional categories with respect to today's radio industry.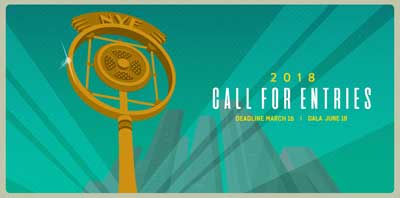 "From podcasts to audio books and every length in-between, today's radio audiences are thoroughly invested in listening. Our new categories embrace that dynamic participation and emphasize the wide range of engaging topics storytellers everywhere are exploring," said Rose Anderson, Vice President and Executive Director of New York Festivals International Radio Program Awards.
New categories for 2018 include: Best Digital Documentary, Best Digital Special Event, Best Original Music and Miniseries. The competition also expanded the number of categories focusing on journalism to include Best Extended News Coverage, Best Drama Feature, Best Music Feature, Best News Feature, and Best Sports Feature.
"When you talk about the media landscape, there is no doubt that Digital has been transformative in every way imaginable. So, this year, we renamed the existing Online and Satellite groups to Digital and augmented that content area with Best Digital Documentary and Best Digital Special Event. Our Advisory Board has been a great help in making sure we continue to recognize innovation and excellence," said Ms. Anderson.
NYF's Radio Awards enlists jurists from all over the world to become members of their world-class Grand Jury, who include some of the most world's recognizable voices and captivating content producers in the radio industry. Entries are judged on production values, organization, presentation of information, creativity, and use of the medium.
The International Radio Program Awards receives entries from radio stations, networks, and independent producers from over 30 countries around the globe. The mission of the competition is to honor the World's Best Radio Programs℠.
In the 2017 competition, the following entries were honored with the New York Festivals Grand Award: "World Cup '66" TBI Media United Kingdom; "Blackout" DMC Studio Argentina; and "The Messenger" Behind the Wire and The Wheeler Centre Australia. RTÉ Radio Ireland earned Broadcaster of the Year and TBI Media United Kingdom earned Production Company of the Year.
Since 1990, NYF and the United Nations Department of Public Information have offered the opportunity for the competition's entrants to be awarded the United Nations Department of Public Information Award. This prestigious award honors radio that best exemplifies the ideals and goals of the United Nations.
Join New York Festivals Monday, June 18, 2018 as we honor the World's Best Radio Programs at an awards ceremony in New York City. To view the 2017 Radio Award winning entries, please visit: https://www.newyorkfestivals.com/worldsbestradio/2017/
The deadline to enter the 2018 Radio Awards competition is March 16, 2018. To enter go to: Log In and for additional information go to: Rules and Regulations.