RadioPromoHub is proud to announce the launch of their Texting Platform; built into their All-In-One Promotions/Creative Tool. Text-Enable your existing studio line and interact with listeners! It is more convenient for listeners to make song requests, ask questions to in-studio guests, enter contests, and request information using text rather than phone.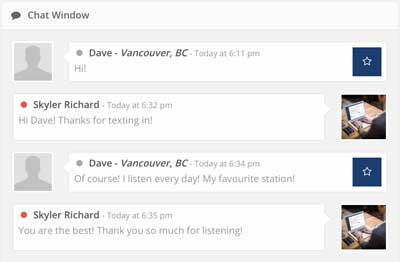 RadioPromoHub's Texting Platform is unlike any other; with many features you'd expect like Keyword Campaigns, Bounce Back Features, and their conversational user interface.
Keyword Campaigns: the new way to run your contests. Have your listeners enter contests or get information about upcoming events by texting in a specific keyword.
Bounce Back Feature: a great way to upsell a client. Have your texting paid for by a client with a simple
message bounce back to all texts that come in. "Sponsor by your awesome client". Bounce Back does not annoy listeners as you can set delays on bounce backs. That way the sales message only gets sent once every 15 minutes for example. You set the time!
User Database: every texter is linked to the prize winner database. Every time someone texts in, RadioPromoHub will show you their name and any prizes they've won. You can also save their demographic information, location and add notes about how great of a listener they are.
This exciting expansion only demonstrates how RadioPromoHub is the perfect All-In-One Radio Communication Tool.
Plans for unlimited texting start at $69/month for Canadian and American Stations. RadioPromoHub - A workflow like no other. It will make your competition wonder how. Contact the team at RadioPromoHub today by emailing This email address is being protected from spambots. You need JavaScript enabled to view it. or by calling 1-877-682-3606 to find out how RadioPromoHub can change the way your station does radio.