Technical 'reverb tail' solutions that aid different ways of musical expression through room reverb manipulation are gradually becoming more common, yet they are still cutting-edge rather than mainstream.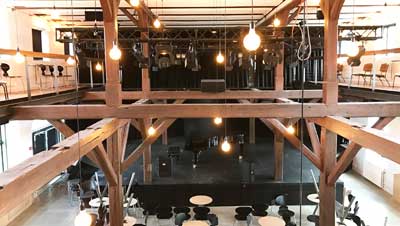 Digital Audio Denmark delivers AD/DA conversion for an Alfa Ecoustics system at the Danish live venue Tøjhuset. The purpose of the system is to allow for hosting both amplified and acoustic music in the same room, but without compromising on the perception of either a dampened room or a large room with natural reverberation.
The reverb 'room correction' system consists of 5 main elements. First, the sound in the room is captured by 5 DPA d:dicate™ 4015 Recording Microphones that hang strategically above the stage. The microphone signals are then passed on to a DAD AX32 unit which amplifies the microphone signals and converts it to digital.
Once in the digital domain, the AX32 distributes the signals to 3 TC Electronic System 6000 units that handle compression as well as the actual reverb processing on 32 channels before passing it all back to the AX32 for D/A conversion.
Finally, the processed signals are sent to a rack of d&b 10D amplifiers connected to EM Acoustics EMS-51 speakers in the room.
"We put a lot of efforts into developing the Alfa Ecoustics system and we always customize the system, as no two rooms are identical acoustically. The system installed at Tøjhuset is no exception, and we are pleased that it turned out so well" says Lars Baun Frederiksen, Managing Director at Alfa Audio. "Further, while we first of all looked for the absolute best parts for the overall solution, I think it is remarkable that so many of them are actually developed and manufactured right here in Denmark, including DAD, DPA Microphones and TC Electronic."
"Taking part in such a project is always fun," says Jan Lykke, Business Development Manager at DAD. "We constantly support innovative ideas that help making certain workflows possible and like in this case at the same time assists in creating a better experience for the audience, as well as the musicians on the stage. We are constantly amazed at how creative our partners can be when it comes to exploiting the capabilities of the AX32 and implement it into solutions we didn't even think of. What Alfa have done with their Ecoustics solution is truly amazing and we are proud to be a part of it."
Learn more about the technical solution on the DAD website.