Enjoy your favorite vinyl records while adding a colorful, 1960s-flavored psychedelic touch to your space with TEAC's new TN-420 turntable. You don't need to drop out to tune in and turn on; simply gazing at the TN-420's bright, tie-dyed hydrographic finish is enough to put you on a natural high. But you'll really bliss out when you hear your favorite music on this top-quality, belt-drive turntable.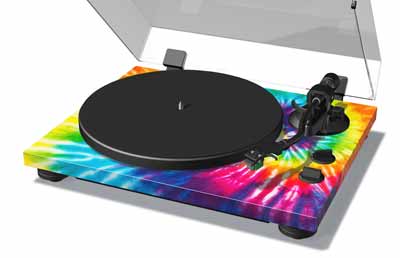 The TN-420's high-torque, DC motor assembly and Neoprene®-coated, high-inertia, aluminum die-cast platter with felt mat combine with a low-friction spindle that reduces platter drag, resulting in precise, consistent rotational speed and tonal accuracy. An anti-skating mechanism keeps the needle securely in the groove, whether you're rocking out to Zeppelin or dancing to the latest beats.
The TN-420 features 33 1/3 and 45 rpm operation and a static-balanced, S-shaped tone arm with universal head shell for superior tracking. The TN-420 comes with a pre-installed, replaceable Audio-Technica AT95E MM-equivalent, dual-magnet cartridge with a recommended tracking pressure of 2g.
A robust, high-density MDF plinth provides vibration isolation, resulting in rock solid performance, while floating construction, using decoupled feet, offers high feedback resistance. The knobs and rubber-tipped feet -- no, the '60s-flavored turntable doesn't wear sandals -- feature machined aluminum construction.
The TEAC TN-420's tie-dye appearance may conjure visions of the Summer of Love, and the new turntable delivers outstanding old-school analog performance, but it also offers the convenience of modern digital technology. On the analog side, the turntable sports a built-in phono EQ amplifier; switchable, gold-plated RCA phono/line outputs so you can play vinyl with or without the phono EQ; and gold-plated tone-arm contacts. Power is supplied by an included AC adapter.
A lot of great music emerged during the '60s but technology has come a long way since then, with TEAC often leading the way. The TN-420 features integrated, 16-bit, 48 kHz, Texas Instruments analog-to-digital converters and a USB Type B port for easy archiving of your vinyl collection to a computer. This combination of analog and digital technology and eye-catching style makes the TN-420 a unique turntable that will impress sonically and visually.
Whatever musical genres you enjoy, treat your vinyl and yourself to the latest in modern turntables with a dash of old-school '60s color. Give the TN-420 a spin at your TEAC dealer. For more information, visit www.teac.com/product/tn-420.