VU meters have been a proven industry standard for decades, across multiple musical genres and platforms, helping engineers to set proper recording levels and to mix with adequate headroom and a well-balanced gain structure. With unparalleled smoothness and perfect ballistic response that equals the best hardware VU meters, the Waves VU Meter plugin will help you maintain proper gain staging for a clear and spacious mix.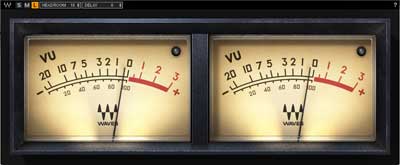 Load the Waves VU Meter on any or all your tracks while recording, in order to make sure your recording levels are not too hot, or, insert it on your master buss and pin it to your screen for a precise visual reference of your mix's overall levels.
Fabian Marasciullo, Mixing Engineer (Justin Bieber, Rihanna, Lil Wayne, Jay-Z), comments, "Waves' VU meter plugin will be extremely helpful for younger mixers as they learn how to build proper gain stage in their sessions. It will help them see things, like why their tracks are distorting, in ways that are hard to understand with just a DAW meter. For seasoned vets, it will bring a sense of familiarity while helping us keep track of what's going on with our levels. I love the retro look, too!"
Jeff Juliano, Mixing Engineer (Dan+Shay, Chris Janson, Michael Ray, Hunter Hayes), states, "The Waves VU meter is ballistically spot on, reacting identically to my mastering-grade analog VU meters. Awesome!"
Waves VU Meter features:
Meter average levels to achieve a well-balanced mix
Accurate ballistic response with smooth movement & fast refresh rate
Headroom calibration: 4 to 26 dB
Classic console VU meter design
To help you achieve optimal levels, sufficient headroom and a clearer mix, track and mix in your DAW using the Waves VU Meter.
Learn more: www.waves.com/plugins/vu-meter
Videos: https://youtu.be/3vZNfZjyH9I