PreSonus® has released Studio One® 3.5, an extensive update to the company's popular DAW for Mac® and Windows® that includes 60 new features and enhancements, including several of the most requested features. The update is free for registered Studio One 3.x users.
Version 3.5 eliminates the need for expensive hardware DSP by introducing native low-latency software monitoring. When used with a high-speed audio interface, such as the PreSonus Quantum, Studio One 3.5's completely redesigned audio-engine latency management allows you to stay in the native processing domain throughout the entire production process. The result is faster performance and better stability, including Dropout Protection that reduces the risk of audio dropouts in CPU-heavy songs, even at very small buffer settings. Native low-latency software monitoring works on virtual instruments, as well, enabling VIs to be played live, typically with unnoticeable latency. For DSP-equipped interfaces such as the PreSonus Studio 192 series, you have a choice between low-latency hardware and low-latency-software monitoring.
Studio One 3.5 Professional introduces a completely revised Project page with file-independent track markers that can be inserted and positioned freely in the Project page arrangement. This enables CD tracks to span multiple songs and lets you split long, continuous recordings into multiple tracks without splitting the audio.
The new Project page also updates loudness detection and the display of results to meet the latest loudness metering standards. The updated Peak/Loudness level meter now has several loudness metering options, including EBU R128, with two different display ranges. The revised Spectrum meter offers several new features, including Segments and 12th Octave views, the latter of which features a convenient keyboard scale.
Undo Faders has been the most popular feature request—and now it's here. In fact, version 3.5 implements "undo" for the entire mixer, including plug-ins, instruments, routing, I/O selection, FX chains, and more. Mixer actions are now added to the Undo History like any other action. Just click Undo or go back and forth in the Undo History. It's that simple.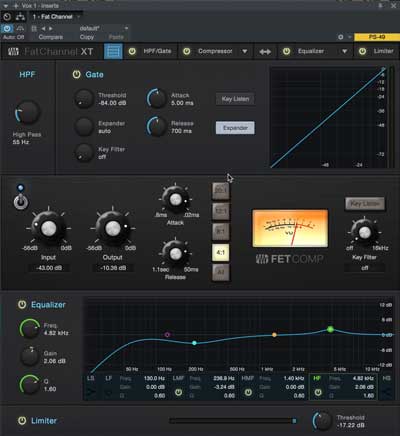 Thanks to Studio One 3.5's new Fat Channel XT plug-in, StudioLive® Series III users can transfer complete mix scenes, including Fat Channel settings, to Studio One and back. (Series III users will need to update to Universal Control 2.1 or later.) The plug-in is bit-by-bit identical to the Fat Channel of the new StudioLive Series III mixers and offers the same routing and processing capabilities, including the alternative vintage compressor and EQ models. In addition, you now have remote control of StudioLive Series III mic preamps and Fat Channels directly from Studio One.
With Studio One 3.5 and the concurrent release of Notion 6.2, PreSonus has further developed the integration between its DAW and scoring applications. You can now send and receive data into existing Notion documents, rather than creating a new Song each time you transfer data. Studio One and Notion can also now share full tempo maps, including time signature changes and markers.
Version 3.5 offers many more new features, including independent recording and playback devices for macOS so you don't need to create a system-level Aggregate Device; optimized Song and Project file formats that save and auto-save more than ten times faster than before; support for multiple touchscreens; and new options for exporting or bouncing events. An updated Show/Hide Automation command affects all automation combined, and when adding Instrument parameter automation, a new automation lane is now added directly on the currently selected Instrument track.
For more information, please see www.presonus.com/products/Studio-One/whats-new.