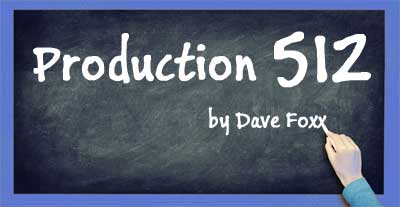 This month I'm talking about a bit of career advice that has little to do with compression, EQ, music and voice work, and more to do with how you comport yourself in the workplace. No, I'm not talking about the much talked about inappropriate behavior around members of the opposite sex, which is so much in vogue right now. Another time, perhaps. Or not.
This time of year, it's pretty easy to figure out what your station needs to maintain its imaging footprint in the market. Between Thanksgiving, Christmas and New Year's Eve, it's pretty clear what kind of promos, sweepers, bumpers and stagers you're going to need to produce. As the phrase goes, "life comes at you fast." This is especially true if your station does some of the same promotions every year. For instance at Z100, the operatives were always Z100 Jingle Ball, and The Z100 Top 100. I could almost always go into autopilot mode starting at about mid-October.
What about the rest of the year? One of the factors to success as a radio producer can be summed up in one word, "Anticipation." Some the older producers reading this know that I'm not talking about ketchup.
I spend a lot of time in this column talking about how important it is to please your listeners, to make them want to listen to your work, making it supremely simple to deliver your all-important USP. But there's another smaller, more important (at least to your career) group of people you need to please as well. Your boss, and his or her boss, plus the usual cast of characters who surround them. Being someone who hits all the right notes for the audience is really important, but the results are nearly impossible to quantify because the ratings don't break down WHY the numbers are good or bad. The quality of your work becomes an intrinsic part of the overall impression the station gives, and your PD is charged with figuring out how much of an impact your work has on the final product.
The key for you is, like the Boy Scout motto says, "Be Prepared."
I've written a few times about a tool that I call The Big Picture. It's a spreadsheet that lays out every promotion on the station on a calendar. I won't go into great detail here as you can find the complete breakdown in the January 2006 column in the growing electronic online archived issues of Radio And Production. The title is A New Year's Resolution - Revolution.
A couple of years ago, I paid a visit to the studios of Radio 538 in Hilversum, in The Netherlands to catch up with their creative guy Jeroen van Doorn and Program Director Dave Minneboo, both of whom I had known for several years. Their studios were as modern and on the technical cutting edge as I have ever seen. All the rooms (including the hallways) were equipped with giant flatscreen monitors that constantly displayed the Radio 538 Big Picture. With a simple glance, everyone could see what events and promotions are on the horizon for the station, city and country…for the next several weeks. This is ingenious! When Jeroen would see that King's Birthday is coming on April 27th (the birthday of the Dutch King Willem Alexander), he can start culling clips and music, and begin writing for sweepers and even promos whenever he has a few moments. THEN, when Dave decides to start ramping up the King's Day imaging, Jeroen is ready.
See what he's doing there? He is anticipating the needs of his PD and promotions department and, at the same time, making his own life ever so much simpler. I'm certain you've spent time in a panic, searching for something, anything that will add to the creative mix for a promotion or event after having the imaging needs dumped in your lap at the last minute. (If you haven't, I'm thinking you either have a Big Picture set up and running or are incredibly lucky.) Even if Jeroen doesn't end up using all of what he's set aside for the occasion, he's at the ready when Dave pulls the trigger. Dave, and by extension, the rest of the staff will eventually come to depend on Jeroen for ideas, and ideas are a producer's stock and trade. (Especially if the job title has the word "creative" in it.) Though I don't know this for certain, I would be willing to wager that when Dave needs some ideas for a given promotion, one of the first people he'll call on is Jeroen.
Since I started talking about The Big Picture back in the late 90s, I've spoken to numerous Program Directors who love the idea, but never seem to get around to creating and implementing one. If that is your experience, make one of your own. When you're setting your Big Picture up, be sure you include all the national holidays (even the greeting card days like Valentine's Day), local celebrations (a big one in New York is the Puerto Rican Day parade), and all the smaller, less celebrated days like the birthdays of your jocks, the founding day of your station and maybe the first time you ever did a Radiothon or other charity event. You will be amazed at how often, the juxtaposition of two unrelated events on the Big Picture will spark a massive concept that can carry the whole promotion.
Another way to anticipate your station/PD/Promotions needs is to organize your tools for maximum accessibility with lightning quick speed.
If you're like most producers I know, there are many chunks of time during your day that you don't do any real production. When I first started as the Commercial Production guy at Z100, I actually got in the bad habit of watching TV in my downtime, wasting hours over the course of the year. One day, it dawned on me that while I was getting all my tasks squared away every day, I did have a lot of down time. I couldn't go home because I never knew when more work would come in. I decided that I needed something to do during that non-production, "Days of Our Lives" time that would actually benefit my work. So, I started farming my music library. Within a month or two, I basically knew every cut I had available and when a spot order would come in for a sporting goods store, I knew exactly where the perfect music was.
Once I made the switch to Creative Services Director, I changed my focus a bit. While I continued to review every new piece of music that came into my universe, I started collecting and organizing all the thousands of artist clips we had at Z100. When my PD told me about a new promotion to send a listener to Australia to see the Black-Eyed Peas, I'd be able to immediately access clips from the group, will I am and Fergie…including all their out-takes. I was locked and loaded!
The real bottom line on all of this anticipation stuff is that it is the only real way for you to OWN your job. The one piece of advice I got when I was young that I think was worth anything of value was "to OWN your job." It's the only way you'll climb the ladder to the top of this game. Don't let anyone else do your job for you.
One of the hot topics in employment circles these days is AI (artificial intelligence) and Robotics. It's taken over a LOT of the manufacturing jobs in the US, and now it's encroaching the service industry too, with McDonalds and other fast food chains experimenting with self-service kiosks. Driverless cars are already here in some markets with Uber leading the way and Lyft not far behind. Your job is SO much more than an assembly line worker's job, McDonalds clerk or Taxi driver. You cannot afford to treat it like one of those gigs, or it will be gone sooner than you think. Not that I think that robots are going to take over in the production studio anytime soon. BUT…when you think of your work that way, you'll be the first person to get cut when upper management decides to "consolidate" the imaging duties for several stations into one person. If you want to keep doing what you're doing, you have to treat your job like it is something only YOU can do properly, because that's what it is. YOU have to be the one person upper management taps to handle imaging for 5 or 6 stations, because you OWN your job. You ARE your job.
For my sound this month, a little ditty I put together for Most Requested Live - Worldwide with Romeo. Within, you'll find a few clips of Halsey from my exceedingly well organized drop library. Check it out here on the Soundstage.