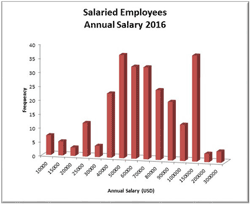 ► How much can I make in Game Audio? Do I need to go to college or can I rely on my musicianship and creativity? How much experience do I need? Is it better to freelance or work for a game company? Answers to these and other interesting questions regarding income opportunities for video game composers and sound designers can be found in the new and highly anticipated GameSoundCon report. Every year, the results of the GameSoundCon Audio Industry Survey are published before the premier conference for video game composers and sound designers. GameSoundCon opens its doors again in the Millennium Biltmore Hotel in Los Angeles on Sept 27-28. The 2016 survey ran from May 15 to June 30, 2016 and received close to 600 responses of game audio professionals. The report covers compensation, work and environment, use of live musicians & middleware, contract terms, and education, plus an addendum on gender and game audio. New questions for 2016 deal with: Total Compensation for Freelancers, Correlation with experience/years in the industry, Use of Union musicians and voice actors, Income Breakdown by Gender. The report reveals that while salaried game audio employees make more on average than freelancers ($65,000 vs. $42,000 per year), the very highest salaries were obtained by freelancers. Experience and time spent working in the industry influence the income opportunities greatly for employees, and the same can be said for freelancers, even though their range of income varies much more. Indie games are on the map: In terms of freelancer compensation per project, Brian Schmidt, Executive Director of GameSoundCon, was surprised to find a few indie games among the highest payers: "Per project fees varied tremendously, from a low of zero, to a high of over $250,000. Large budget games, of course, dominate at the higher end, with Indie games clustered toward the low end. However, there are significant number of Indie games (self-funded, kickstarter, etc.) with per project fees rivaling those of Professionally Produced small scale/casual games," he says. The report informs also about the correlation between education and game audio employment. It turns out, just relying on your musical talent is not enough: 72% of all surveyed have a bachelor's degree or higher. Another big surprise was the income differences between male and female respondents. Schmidt is in the process of verifying the findings and will issue an addendum in a soon-to-come blog post. The report contains 17 pages of information, such as how many game audio pros are currently working on a Virtual Reality title, corresponding graphs, and remarks on the statistical validity of the GameSoundCon survey. The complete report is available at www.GameSoundCon.com.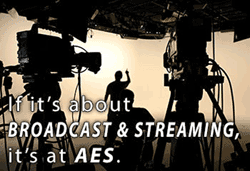 ► The 141st AES International Convention will keep attendees on top of the latest industry developments and trends with its Broadcast and Streaming Media Track events. These sessions, professionally organized by Track chair David Bialik, will offer in-depth panel discussions and presentations from some of the most influential names in the industry over the four days of the AES Los Angeles Convention, September 29 – October 2, 2016, at the Los Angeles Convention Center. Thursday, September 29, will kick off with "Immersive Audio Absorbing Radio and TV Audiences in 2016 and Beyond," led by John Storyk of Walters-Storyk Design Group, on the technical and acoustical challenges of upgrading existing broadcast studios to handle immersive audio. Subsequent panels will examine the physical and psychological effects of listener fatigue and what can be done to reduce it, and the unprecedented capabilities of immersive and object-oriented audio in customizing the home listening experience. In the spirit of SMPTE's 100th anniversary, the day will end with a historical look back at key developments in audio technologies for broadcast and cinema. Friday, September 30's "Audio Considerations for 4K and 8K Television" seminar will look at the evolution of 4K and 8K UHD broadcasting and will also cover ATSC 3.0 and Super Hi-Vision experimental transmitters. The subsequent Engineering Brief lecture covers a host of broadcast and production topics, from a new, more accurate proposed film leader format to Dysonics' Rondo360 spatial audio post-production toolkit and techniques for mixing hip-hop with distortion. Friday's sessions will also include an interview with industry legend Bob Orban, creator of the Orban Stereo Synthesizer, Optimod FM audio processor and other game-changing studio hardware, as well as an "Audio Considerations for Over-the-Top Television" (OTT) presentation, which will examine the latest advancements in online content delivery. Saturday, October 1, will focus on practical considerations for broadcast and streaming, starting with "Designing, Building and Maintaining a Radio Performance Space," where CBS Radio's Tracy Teagarden will talk about equipping such a facility when faced with limited resources. The day's second session addresses IP in the broadcast world, where Steve Lampen of Belden will look at the realities of implementing wired, fiber-optic and wireless cable and hardware for IP audio applications. "Considerations for Podcast Audio" is sure to be a popular session to end the day, with experts from American Public Media, Love + Radio and others discussing the evolving craft of sound design for podcast audiences. Complete AES 141st International Convention Broadcast and Streaming Media Track information is available on the AES website and via the AES Events mobile app (iOS and Android). AES Los Angeles Early Registration pricing is now available for All Access badges, or attendees may register to receive a FREE Exhibit-Plus badge (promo code AES141NOW) for the AES Los Angeles Convention: aesshow.com. Exclusive convention housing options with partner hotels are also still available. Find out more about the Audio Engineering Society at www.aes.org.

► Killer Hertz, the imaging and sound design company of Jeff Thomas Productions, is now entering the royalty-free music market with the introduction of Mic Chec Beats – over 100 promo music beds for a one-off price of $99. Mic Chec Beats showcases the harder and melodic sounds of dance music featuring dance, EDM and dubstep beds for radio and television, podcasts, independent production and multi-media work. Mic Chec Beats was composed by the dance music industries' elite producers. www.killerhertz.com/buyout.
► Pro Sound Effects® released its newest library, Chicago Ambisonics. Featuring over 3 hours of immersive urban ambiences, Chicago Ambisonics includes software that allows sound editors and mixers to point "virtual microphones" in any direction with a variety of polar patterns for greater control and creativity. This is the second Ambisonics library PSE has released following last year's NYC Ambisonics which, when previewed at NAB 2015, the press dubbed "the future of sound effects libraries." "Chicago Ambisonics offers unparalleled flexibility and realism when mixing backgrounds for a project," says David Forshee, Pro Sound Effects Library Specialist. "The B-format files give users the ability to tweak perspective of the city ambiences with software in real time to specifically match the setting of a scene." Produced and recorded in 24-bit/96kHz high-resolution by Pro Sound Effects, the Chicago Ambisonics sound effects library was captured throughout Chicago including recordings from Magnificent Mile, Chinatown, the L Train, West Loop, Kennedy Expressway, O'Hare International Airport, Lake View, & Wrigley Field. The Ambisonics format allows for versatile use of the library, as the recordings can be decoded to mono, stereo, 5.1, 7.1 and beyond. Features: 35 immersive Ambisonic recordings with average recording length of 6 minutes (14GB): 24-bit/96kHz broadcast .wav files. Choose between download or flash drive delivery. SurroundZone2 software by TSL Products: Gives editor full control over "virtual microphone" position and polar patterns. Available in 32-bit and 64-bit AAX, VST, and AU. 100% royalty-free license with 1-user and multi-user options. Regular price is $79. Free sampler download at www.prosoundeffects.com. ►