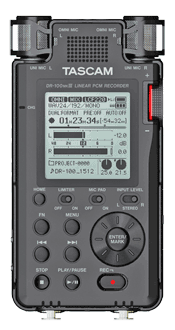 ► Tascam introduced the new DR-100mkIII Handheld Digital Stereo Recorder. The newest generation of Tascam's flagship Handheld Digital Stereo Recorder delivers high resolution recordings up to 192kHz/24-bit resolution, with a 109dB S/N ratio. Ultra-precise, temperature-compensated clocking and high-performance dual-mono AKM "Velvet Sound" converters are combined with Tascam's HDDA microphone preamps and coupled with support for SDXC cards up to 128GB. Features include dual stereo mics in both AB and omnidirectional patterns, two XLR/combo jacks, switchable phantom power, and a dedicated input level control. The DR-100mkIII's dual battery technology utilizes a built-in Li-ion rechargeable as well as AA batteries, giving you extended recording times and the ability to change batteries on the fly. Tascam's exclusive Dual Recording Mode simultaneously captures a lower level safety track, to safeguard against unexpected source level spikes. Built on a rugged black aluminum chassis, the Tascam DR-100mkIII is available now at a street price of $399.99.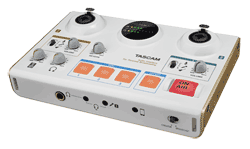 Also from Tascam, the new MiNiSTUDIO-series personal audio interfaces. The Tascam MiNiSTUDIO Personal US-32 is an affordable solution for Internet broadcasting, supplying the key tools you need while delivering excellent audio quality. The MiNiSTUDIO Creator US-42 has all the podcasting features of the MiNiSTUDIO Personal and adds a number of features that are ideal for more advanced audio and video production. Both Tascam MiNiSTUDIOs provide high-resolution recording up to 24-bit, 96 kHz with Windows and Mac computers. The interfaces connect via USB 2.0 and can be USB bus-powered. You can also connect them to iOS devices using an Apple Camera Kit (not included). They are compatible with all major DAW software and work with all major streaming software and services. But connection is only half the story - effects can make the difference between a good podcast and a great one. Tascam MiNiSTUDIOs also enable you to easily add sound effects on-the-fly, thanks to three self-lighting PON pads that trigger audio files from the Mac or PC. Three sounds are included, but can be easily replaced with a .wav or .mp3 file of your choosing. A cool Voice Effects feature lets you alter the sound of your singing or speech, as well; it's a fun effect that adds color to your podcasts. At showtime, an illuminated On Air button confirms that you're live on the air and busses audio to and from the computer by way of the MiNiSTUDIO's Broadcast mode. This ensures that you are hearing everything your audience hears, making the MiNiSTUDIO a well-integrated and easy-to-use interface that lets you focus on your podcast, rather than your equipment. To complete the package, both models include free software for Mac, Windows, and iOS that provides extensive control of the MiNiSTUDIO's features in one of two specially designed modes. In Easy mode, you get software control of most-used EQ, compression, and effects presets, while Expert mode lets you dig in deep to program the four-band parametric EQ, compressor and reverb parameters, as well as advanced parameters for triggered sounds. The Tascam MiNiSTUDIO Personal US-32 features a built-in microphone and a combo XLR mic/balanced ¼-inch TRS line input with high-quality mic preamp and 48V phantom power. A 1/8-inch input can connect to a smartphone, tablet, or other consumer audio device so you can fly in prerecorded music and dialog. Separate headphone and headset/mic connections are also available. The MiNiSTUDIO Creator US-42 extends the features of the MiNiSTUDIO Personal by adding a set of tools for producing, as well as broadcasting your podcasts. Instead of the built-in mic, the MiNiSTUDIO Creator adds a second XLR/TRS mic input so you can mic yourself and a guest with lavalieres or other external microphones with professional-caliber HDDA microphone preamps. In addition to headphone outputs, the MiNiSTUDIO Creator offers stereo RCA line-level outputs with separate level controls for connection to powered monitors. The MiNiSTUDIO Personal US-32 and MiNiSTUDIO Creator US-42 are available now at Tascam dealers at a street price of $129.99 and $179.99, respectively. www.tascam.com.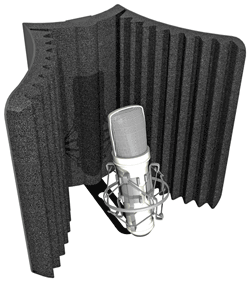 ► Auralex® Acoustics, Inc. is now shipping its updated MudGuard™ v2 Microphone Shield, which isolates mics by eliminating external noise bleed and filtering out external overtones. This design is engineered for maximum effectiveness using Auralex Studiofoam® to reduce excessive room ambience and off-axis sound. The Auralex MudGuard v2's unique, patent-pending multi-radii convex shape is designed to direct any unwanted and off-axis acoustic energy away from the microphone. Most flat and concave microphone shields tend and focus energy toward the microphone causing unwanted colorations. The non-perforated, solid back on the MudGuard v2 allows for maximum sound isolation by blocking sound from the recording environment, through the shell, to the microphone. The included hardware allows the MudGuard v2 to easily mount to most microphone stands and allows the user the flexibility to adjust the microphone proximity. Dimensions: 16" Wide x 10" Deep x 14" Tall. www.auralex.com.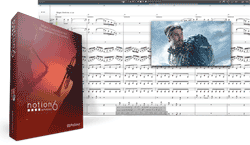 ► PreSonus® is shipping Notion™ 6, a major upgrade to its popular notation software that adds a variety of features and enhancements. The new version integrates Notion more closely with PreSonus' Studio One DAW, adds a new way to enter music, provides improved layout tools, adds ReWire MIDI capabilities, and more. Notion 6 further improves the software's compatibility with other software, especially with Studio One. Compose in Studio One and send note data to Notion for editing and printing parts. Export the audio or note data for each track and import it into a copy of Notion 6 running anywhere on the network or on the same machine. Notion 6 can find instances of Studio One, automatically open a new project, and send the audio files or note data, track data, and score data straight to the DAW, retaining instrument name, score order, pan and gain settings, rehearsal marks, initial time signature, and metronome marks. Notion 6 is available for a MAP/street price of $149 U.S. at PreSonus dealers and the online PreSonus Shop. www.presonus.com. ►