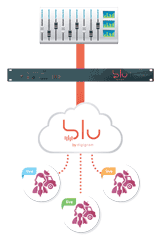 ► Digigram unveiled blu by digigram, a suite of cloud-based services including end-to-end management of content contribution from journalists, voice talents, and remote presenters, as well as live user-generated content from the qualified broadcast or web radio audience. A cost-effective, centralized web service designed for the professional broadcast environment, blu by digigram makes it simple for virtually any authorized user to establish a high-quality bidirectional communication with any remote contributor with internet access. The new protocol-agnostic contribution platform features the blu by digigram software as a service (SaaS) and the blu Connect studio interface. Together these elements facilitate instant and secure IP audio contribution over the cloud or via traditional real-time modes of communication (phone or IP codecs), along with optional cloud-based audio processing and media recording. Staff within the studio simply connect to the blu by digigram web platform and use its contacts interface to launch a full duplex contribution link between a remote correspondent and the blu Connect interface in the studio. Contributors accept the communication by clicking on the link sent by email or SMS to their PC or Android smartphones. In addition to providing users on both sides of the link with audio controls, the web platform offers tools with which the editorial team can manage the contributor community and enrich recorded media with additional contextual metadata. The blu Connect broadcast-grade audio/data interface features AES/EBU, AES67, and high-quality analog I/O. The plug-and-play system automatically connects to the blu by digigram service over an encrypted connection, and contributions links are generated without the need for network/IT configuration or knowledge. Encrypted audio between the studio and any potential contributor ensures security across diverse sources of content. The subscription-based services within blu by digigram not only enable radio and web broadcasters to reduce their capital expenditures, but also allow them to scale web services as needed. For example, users can extend the system's capabilities quickly and easily by adding concurrent contribution links, connecting with a traditional audio-over-IP (AoIP) codec, or adding new functionality to accommodate future services. blu by digigram integrates readily with existing apps, web sites, or other contribution portals. www.digigram.com.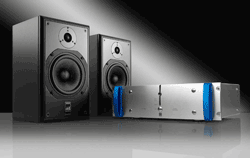 ► TransAudio Group introduced the newest and smallest member of the ATC family of studio monitors: the SCM12 Pro. "For anyone who has been waiting for an ATC nearfield with a smaller footprint or a lower price point, and that still delivers undiminished ATC performance, the SCM12 Pro is for you," said Brad Lunde, founder and president of TransAudio Group. Although the SCM12 Pro is the most affordable model in ATC's pro range, it still features ATC's drive units for both the mid/bass and tweeter. The tweeter is ATC's "S" high-power 25mm/1-inch soft-dome, featuring ATC's unique dual-suspension technology. Unlike conventional tweeters, it uses two suspensions, offering greater control of the voice coil and dome motion at all useable sound pressure levels. The result is an extended high-frequency response and greater clarity and definition due to the reduction in unwanted harmonic distortion. Bass/mid reproduction is handled by ATC's 150mm/6-inch proprietary CLD drive unit. Constructed with a 45mm/1.75-inch diameter voice coil and employing an FEA optimized high-energy symmetrical gap motor system, the driver is capable of tremendous dynamic range, with minimal power compression. The cone is constructed using another proprietary ATC technology: Constrained Layer Damping. This process employs multiple laminated fabric cones to form a stiff, light and tremendously well-damped structure. Acoustically, this construction produces a smoother on- and off-axis frequency response and also a reduction in distortion leading to a more lifelike reproduction of the source. MSRP: $2,195.00. www.transaudiogroup.com.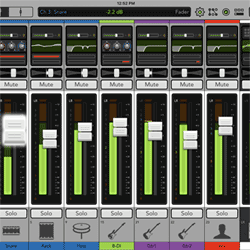 ► Mackie announced the availability of Master Fader v4.5, the control app for their DL32R, DL1608 and DL806 digital mixers. Now supporting the new Mackie AXIS Digital Mixing System, Master Fader v4.5 is packed with new features and enhancements. Hitting on the number one feature request, Master Fader v4.5 features all-new reverbs, including a new advanced control section. Adding another great tool for live sound mixing, a Spectrograph is now available alongside the RTA. A spectrograph is a great visual tool to help balance volume across the audible spectrum. In addition, the upgraded RTA/Spectrograph tool is now also visible on every input channel for added accuracy when dialing in a channel EQ. Other feature additions include new factory presets for all EQ, dynamics and FX, offering a starting point for users of any level. New metering ballistics choices are now available, including the ability to choose how long the meter holds an RTA peak level. And, rounding out the feature upgrades is the inclusion of the FX return EQ when saving an FX preset. Master Fader v4.5 is available for download from the App Store at www.apple.com.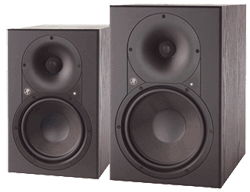 Also from Mackie, a new series of studio monitors, the XR Series Studio Monitors. Aimed at professional and project studios, XR Series offers two models, the 8" XR824 and 6.5" XR624. Drawing inspiration from the performance and aesthetic aspects of the Mackie HR Series monitors, XR features a smart logarithmic waveguide, providing acoustic alignment to deliver precision balance between articulate highs and midrange clarity. Both models feature a high-output 160W power amplifier and premium transducers including a Kevlar® LF driver with proven fast-recovery from transients, virtually eliminating resonant frequencies. And, unique to XR, Mackie has developed the new ELP Bass Reflex System which utilizes an extended-length, internally curved port that delivers outstanding bass response and increased output capability. XR Series Studio Monitors can be sonically optimized to the specific mix environment, featuring user-controllable acoustic space tuning controls. There are three different acoustic space settings that adjust for monitor placements close to walls, in corners, etc. Plus, both high- and low-frequency EQ controls are available for final sonic adjustment to the mixing space. Other finishing features include an eco-friendly auto on/off functionality that senses when a signal is present and turns that monitor on or off, plus the inclusion of acoustic isolation pads for each monitor. Available beginning November 1 and sold individually, the XR824 has a U.S. MSRP of $629.99 and the XR624 has a U.S. MSRP of $519.99. www.mackie.com.

► Voxengo announces the release of version 3.0 of its MSED plugin - a free professional audio encoder-decoder plugin for mid-side processing. Plugin is available in AAX, AudioUnit, VST and VST3 plugin formats (including native 64-bit support), for Mac OS X (v10.6 and later), and Windows computers. This version adds the "plasma" vector scope, stereo correlation and balance meters, and the bypass switch. MSED is able to encode (split) the incoming stereo signal into two components: mid-side pair, and vice versa: decode mid-side signal pair into stereo signal. MSED is also able to work in the "inline" mode with the ability to adjust mid and side channels' gain and panning without the need of using two plugin instances in sequence. MSED can be used to flip the phase of the mid and side channels by 180 degrees, and swap the stereo channels, and to extract the mid or side channel.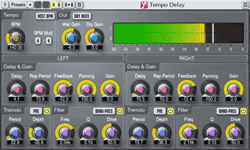 Also from Voxengo, the release of Tempo Delay v2.0, a "packed-with-features" stereo delay effect plugin for professional music production applications, available in AAX, AudioUnit, VST and VST3 plug-in formats (including native 64-bit support), for Mac OS X (v10.6 and later), and Windows computers. Tempo Delay is based on tempo, incorporating filter and tremolo sections with separate controls for each stereo channel. Instead of a single "delay length" control this plug-in features separate "delay", "repetition period" and "delay panning" controls which allow you to create an evenly sounding "ping-pong" stereo echoes. Other features include a preset manager, undo/redo history, A/B comparisons, contextual hint messages, all sample rates support and zero processing latency. www.voxengo.com.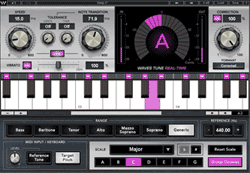 ► Waves Audio is now shipping the Waves Tune Real-Time plugin. Waves Tune Real-Time provides smooth, natural-sounding vocal pitch correction instantly and automatically, as soon as the notes leave the singer's mouth. Designed for live performances as well as pre-production, tracking and mixing in the studio, the plugin's pitch detection and correction technologies ensure that the tuned vocal retains the vocalist's natural vocal sound. Producers, engineers and performers can use the plugin for subtle pitch correction, but also as a creative pitch quantization effect – all in real time. Waves Tune Real-Time can be easily programmed per song and customized to the singer's articulation. You can control the range, choose a scale, mark in advance specific notes to fix or avoid, control the plugin's sensitivity, and even tune a singer's vibrato while preserving its natural movement. If you don't know the scale of the song, you can enter the notes using the virtual keyboard, or set the plugin to follow a melody played in advance or in real time via MIDI. Waves Tune Real-Time is compatible with all Waves SoundGrid® applications and eMotion mixers, and can work seamlessly with any live console via Waves MultiRack. www.waves.com. ►