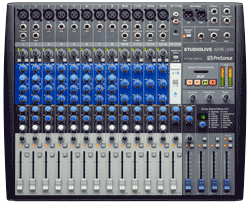 ► PreSonus® is now shipping its StudioLive® AR USB-series hybrid mixers. Lightweight, versatile, and feature-rich, they are musician's mixers, packed with analog connections and digital tools for live performance and studio use. The series includes three models: the 18-channel StudioLive AR16 USB, 14-channel StudioLive AR12 USB, and 8-channel StudioLive AR8 USB. The perfect companion for the recording musician, StudioLive AR USB mixers are equipped with a Mac- and Windows-compatible, 24-bit, 96 kHz, USB 2.0 audio interface that can capture all input channels and the main mix. Like every PreSonus mixer, StudioLive AR USB mixers are bundled with everything you need to record, mix, and distribute your music. Create multitrack recordings with one click in PreSonus' Capture™ live-recording software, then mix, edit, and distribute from Studio One® 3 Artist DAW production software; both are included free. Need to capture a quick two-track mix for rehearsal? Don't want to bring your laptop to the gig? No problem: Every StudioLive AR USB mixer comes equipped with an onboard stereo SD recorder that lets you record the main mix without a computer—just hit Record and go. You can also use the SD recorder to play up to 32 GB of MP3 and WAV files for hours of program music or backing tracks without needing a computer. StudioLive AR USB mixers also feature the unique PreSonus Super Channel, which allows you to play audio from four stereo sources simultaneously. Plug a media player into the Super Channel's unbalanced RCA inputs. Connect your tablet to the 1/8-inch stereo input. Play stereo audio from the onboard SD recorder or from your USB-connected Mac or Windows PC. Use onboard Bluetooth 4.1 to pair your phone to your StudioLive AR USB mixer and instantly have wireless access to your music library for break music, backing tracks, or ear-training. Have a song you want the rest of the band to learn? Pair your phone and start rehearsing! The Super Channel allows you to play back audio from four stereo sources at one time. StudioLive AR USB mixers are packed with the connections and features needed to mix and record live, in the studio, and in rehearsal, including Class A mic preamps; instrument and line inputs; semi-parametric 3-band EQ; and an internal stereo effects processor. U.S. MAP/street prices are: StudioLive AR16 USB $599.95; StudioLive AR12 USB $499.95; and StudioLive AR8 USB $399.95. www.presonus.com.

► Focusrite has announced the launch of a new eight-channel mic pre/A-D/D-A, the Clarett OctoPre, designed to allow the rapid addition of eight mic/line inputs and line outputs with the company's successful Clarett range of audio interfaces, or other interfaces that include ADAT optical I/O. The Clarett OctoPre includes eight of the Clarett range's 'Air'-enabled mic pres: the 'Air' effect emulates the transformer-based sound of Focusrite's ISA range of heritage mic pres. The preamps include extensive headroom, making them ideal for drums or other high-level signals. The rear panel inputs switch automatically between mic and line in and there are also two instrument DI inputs on the front panel. The 'Air' effect can be switched in or out on a channel basis and phantom power is also provided, switchable in two groups of four channels. Each channel features a front-panel switchable relay-bypassed insert point allowing EQ, compression or other analogue processing to be left connected and brought into play with the push of a button. In addition to being fed to the A-D converter, the input channels are also available at the analogue outputs, from where they can, for example, be routed to a live mixing console while at the same time capturing the inputs digitally. The analogue outputs, which appear on a rear-panel DB25 wired to the AES59 standard, can alternatively be switched to pick up the ADAT inputs via the D-A converters. The Clarett OctoPre provides a level of conversion quality that matches that of the mic pres themselves, with precision digital conversion offering 24-bit operation at standard sample rates up to 192 kHz. The A-D converters measure a dynamic range of 118dB (A-Weighted); the D-A 119dB. Two ADAT input and two output ports are provided, allowing the Clarett OctoPre to carry eight channels of I/O at sample rates up to 96kHz and four channels at 176.4/192kHz. Available from dealers for $699.99. www.focusrite.com.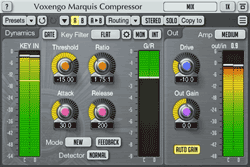 ► Voxengo released a new major version of its Marquis Compressor plugin. Marquis Compressor is a "universal" compressor AAX, AU and VST plugin for professional music production applications. You'll find a smooth compression performance in this compressor, coupled with a harmonically-rich sound, both suitable for mixing and mastering. Being "universal" this compressor can be used on a wide range of sound material: individual tracks, stems and mixes, producing "clean" or "colored" sound. Marquis Compressor plugin was built around a tube triode-modeled amplifier cascade. At low Drive settings this cascade produces a mild harmonic coloration while at higher Drive settings you can get a brutal tube saturation which works great for drums, bass and vocals. At moderate Drive settings this cascade can add a pleasant grit to the mix. Marquis Compressor features a unique "round" signal level detection algorithm, which creates a very open, punchy, compressed sound with an impressive transient response. Beside this, Marquis Compressor offers a classic feedback (opto) compression mode switchable to a more common feed-forward compression. Marquis Compressor carries 3 distinctive compression algorithms, one of them (T3) being modeled after a classic analog compressor. The Gate algorithm is also available which is handy at reducing drum bleed in drum tracks.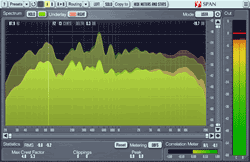 Also from Voxengo, the SPAN version 3.0 update, now available for download. SPAN is a free real-time "fast Fourier transform" audio spectrum analyzer plugin for professional music and audio production applications. For the most part it was derived from Voxengo GlissEQ dynamic parametric equalizer and reproduces its spectrum analysis functionality. SPAN is available in AudioUnit, AAX, VST and VST3 plug-in formats (including native 64-bit support), for Mac OS X (v10.6 and later), and Windows computers. List of changes in version 3.0: Added "RT Sigma" analyzer type; added "Spectrum Offset" display modes; made bottom group selector switchable; fixed "zoom in" function's issue. SPAN features: Output signal power statistics; Spectrum smoothing; User interface window resizing; Clipping statistics; Correlation meter; K-metering; Stereo and multi-channel analysis and more. www.voxengo.com.

► Wave Arts announced a new version 2.10 of Tube Saturator 2. This is a free update for existing TS-2 owners, simply download and install. The principal new features are support for non-Pace/iLok licensing and support for VST3 format. However, under the hood this plug is a complete rewrite using a new application framework which will provide a solid foundation for future Wave Arts plug-ins. Other new features: New user preset manager facilitates naming and organization of user presets; New preferences manager allows setting of knob drag style and optional knob value popops; DC-offset of saturation section is now filtered. www.wavearts.com.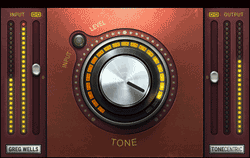 ► Waves Audio is now shipping the Greg Wells ToneCentric plugin, part of the Greg Wells Signature Series. Created in collaboration with multiple Grammy®-nominated producer, musician and mixing engineer Greg Wells (Adele, OneRepublic, Katy Perry, Twenty One Pilots), Greg Wells ToneCentric is a musical harmonic enhancer based on Greg's favorite pieces of analog gear. It is designed to add rich analog tone to individual tracks or entire mixes, in the studio or live, with an extremely easy-to-use single-knob interface. Greg remarks on his vision for the plugin: "I'm always on the hunt for ways to pull more music out of the speakers. You get a beautiful effect when you run audio through healthy vacuum tubes and big transistors wound the right way, and record it to a great tape machine. This plugin is an homage to the great analog gear that leaves a wonderful sonic footprint on your sound." www.waves.com.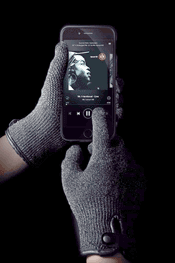 ► Mujjo unveils their Touchscreen Gloves Collection 2016/2017. The design has won praise for its appearance, quality of materials and responsiveness. A leather strap crosses over a notch on the wrist where a carefully placed magnetic snap button provides a snap closure. The cuff boards are constructed of matching black leather and the palms feature grip dots to aid in anti-slip capability. A soft layer of integrated fleece lining provides a soft touch and feel to the sturdy and durable gloves. Silicon grip dot patterns are added to the palms of these gloves to aid in gripping and provide anti-slip capabilities that will come in handy on a moist or snowy winter day. The gloves take the shape of your hand and offer a sleek fit, which guarantees an optimized typing experience. The Double Layered Touchscreen Gloves, developed in response to requests from those in colder climates looking for touchscreen gloves with extra insulation, the extra layer, made out of wool, acts as an insulator and doubles as lining, providing enhanced insulation. Mujjo's touchscreen gloves offer an unrestricted touchscreen experience and enable you to use all your fingertips, your knuckles and even the heel or palm of your hand. The gloves are available for order and immediate dispatch on www.mujjo.com.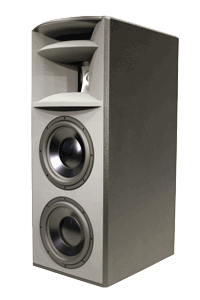 ► Ocean Way Audio unveils the new HiRes3.5 Studio Reference Monitor, also known as HR3.5. HR3.5 is based on the HR4 studio monitor released March of 2016. The HR3.5 is a larger free-standing or soffit-mounted version. This monitor system delivers a frequency response of 20 Hz to 22 kHz with an SPL rating of 120db. The HR3.5 Reference Monitor incorporates an integrated two-way dual-horn system with a one-inch HF and eight-inch MF drivers, mechanically time-aligned with twin 12" sub-bass drivers per channel. Three built-in state-of-the-art amplifiers power this speaker, featuring analog and digital inputs, 96 kHz and 24 bit sampling and tri-amped 3,400 watts per channel of pure power. At the heart of the acoustic design is OWA's geometrically complex, stone-cast dual/hybrid waveguide system. The system delivers accurately matched and detailed imaging with OWA's signature, unusually wide 100x40 degree horizontal and vertical dispersion, yielding a massive sweet-spot across a broad area of the listening environment. The consistency of its stereo image, even at the far corners of the room, is due to the highly consistent directivity response of this unique speaker system. Dimensions are: 43"H x 17.5"W x 25.5" D. Remote rack-mounted amplification is available for soffit-mounted installations. www.oceanwayaudio.com. ►