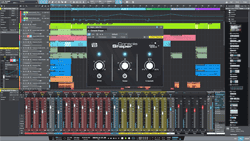 ► PreSonus® has released Studio One® version 3.2, a free update to the company's DAW software for Mac® and Windows®. New version 3.2 adds over 50 professional tools and workflow enhancements, including the new Mix Engine FX, which are designed to alter the mix experience. Most of the improvements in Studio One 3.2 came directly from the music production community—in particular from professionals using other DAWs who had integrated Studio One into their workflow and requested some enhancements before switching outright. The biggest news in version 3.2 is Mix Engine FX, a new plug-in paradigm exclusive to Studio One Professional that can modify or bypass and replace Studio One's native mix engine. In contrast to conventional plug-ins that must be inserted independently on each channel, with limited or no interoperability, Mix Engine FX can process every channel routed through a bus, both individually at the source and at their summing point. Any bus, including the main stereo bus, can have its own Mix Engine FX assigned. Console Shaper, the first Mix Engine FX plug-in, uses State Space Modeling to re-create analog mixer system topology and componentry, turning Studio One's 64-bit audio engine into an "analog" console with control over drive, noise, and true crosstalk across multiple channels. Console Shaper provides a software alternative to analog summing hardware while offering more flexibility.. PreSonus, Slate Digital, Softube, Acustica Audio, and other third-party developers are planning to release more Mix Engine FX in the coming months. New VCA Faders allow remote control of any number of tracks from a single fader, complete with relative level control and volume automation. Version 3.2 also adds handy zooming shortcuts, extended Tab-to-Transients navigation, several alternative transport modes, a new Play Start Marker, a Loop Follows Selection option while editing, drag-and-drop audio rendering of virtual instrument parts, and more. Studio One 3.2 is a free update to registered users of Studio One 3.0 and higher. www.PreSonus.com.

► Focusrite introduced its RedNet A16R 16-Channel Analog I/O. The latest addition to Focusrite's RedNet range of Dante™-based audio-over-IP interfaces, the A16R is presented in a rugged, 1U all-metal enclosure matching other products in the series. It features 16 channels of network-connected 24-bit, 192kHz A/D-D/A conversion, and offers high-quality, line-level analog audio in and out with full network and power supply redundancy. RedNet A16R carries on the sound quality of its predecessor, the RedNet 2 sixteen-channel I/O unit. Analog inputs and outputs are accessed via four rear-panel DB25 connectors wired to AES59 specification, while two XLR connectors provide additional AES 3/AES 11 (digital audio/DARS) I/O connectivity. Word Clock I/O connections are made via BNC sockets and permit switchable termination. Dual network connections are provided on locking etherCON connectors and the dual PSU power inputs include cable-retaining clips. The A16R operates at standard sample rates up to 192kHz, 24-bit, including pull up/down, with sample rate and operating levels selected remotely via host computer software. The unit offers a dynamic range of 119dB A-weighted, A/D and D/A, with a frequency response of 20Hz-20kHz ±0.15dB. Front panel indicators include triple-color LED level indication along with sample rate, clock source, PSU and network status indicators. The A16R will begin shipping summer 2016. www.focusrite.com.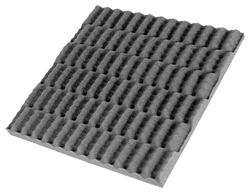 ► Auralex® Acoustics, Inc. introduces SonoTech™, the latest product utilizing Auralex's proprietary Studiofoam®. SonoTech offers effective absorption treatment, on a budget, for home studios in need of a softer aesthetic than offered by other Studiofoam products. The 2" thick profile is available in a 2' x 2' format and is a great choice for a variety of residential applications. SonoTech panels are available in charcoal and are made from Auralex's long-lasting, melamine-free formula, which won't crumble with age. Studiofoam SonoTech panels include EZ-Stick Pro™ tabs for convenient mounting to most surfaces. Available from your favorite authorized Auralex dealer, Studiofoam SonoTech can be purchased in two-packs, allowing for customers to purchase acoustical treatment as budgets allow. Studiofoam SonoTech features: eliminates standing waves and flutter echo, reduces unwanted reflections, and decreases slap-back and room ring. Also from Auralex, the GeoFusor™, a versatile sound diffusor based on the geodesic dome pattern. The GeoFusor's dimensional shape offers smooth, even diffusion and allows back filling with absorptive material for enhanced low-end control. The GeoFusor is wall- and ceiling-mountable and is offered in two sizes (1' x 1' and 2' x 2'). The 2' x 2' GeoFusor is sized to fit in ceiling grids and offered in fire-rated and non fire-rated variations. The GeoFusor's contemporary aesthetic complements residential or commercial environments, and the complementary design of the 1' x 1' and 2' x 2' models permits arraying for acoustical and design purposes. www.auralex.com.
► Waves Audio is now shipping the Waves Abbey Road Reverb Plates plugin. Introduced over half a century ago, plate reverbs have been a fixture of recorded music ever since. Used most prominently in the '60s and '70s by pioneering bands, including the Beatles and Pink Floyd, Abbey Road Studios' original reverb plates — four EMT 140 units — were first installed in 1957 to complement the fixed reverberation times of the studios' echo chambers. These beautiful-sounding plates, with a variable reverb time of up to six seconds, were then tweaked to perfection by Abbey Road's technical engineers. To keep noise to a minimum, EMI's Central Research Laboratories designed unique hybrid solid-state drive amps for Plates A, B and C. Plate D remained fully valve-powered on both drive and output stages, allowing a versatile array of sonic characteristics, from warm and dark to lush and smooth. In each of these original plates, the stereo reverb effect is created by suspending a large sheet of metal with tensioned springs attached to each corner. A transducer injects the metal sheet with audio energy, which is picked up by two contact mics fixed to the surface of the plate. The reverb time can then be adjusted by using an internal damper, and all of this is contained within a large wooden unit. Waves has now created meticulous models of these stunning and unique-sounding units, individually modeling the harmonic distortion of both the drive and output amps as well as the individual plate/damper behaviors. www.waves.com.

► Black Lion Audio has released the Auteur MKII preamp line. Building on the reputation and performance of the original Auteur design, the Auteur MKII boasts a revamped gain stage that results in higher gain, lower noise, lower distortion and an extended frequency response. The preamp is available in dual-channel one-half-rack and 500 series formats, both with updated, superior specifications including a 10 Hz-to-30 kHz frequency response. The Auteur MKII is a two-channel preamp that features high-speed input stages for capturing detail and nuance, and Edcor transformer-coupled output stages that impart a nice touch of vintage vibe. It also features up to 65 dB of gain, 26 dBu max output, phantom power, polarity reverse, balanced mic input on XLR, a balanced TRS quarter-inch jack line output and a -10 dB pad. The Auteur MKII is housed in a 1U, one-half-rack chassis and can be linked together with a second half-rack unit by using the included connector plate. The Auteur MKII 500 is a single-channel, 500 series preamp that features up to 67 dB of gain, 28 dBu max output, phantom power, polarity reverse and a -13 dB pad, and a Hi-Z input. Both preamps are available immediately at a price of $649 (MAP) for the two-channel Auteur MKII and $399 (MAP) for the Auteur MKII 500. www.blacklionaudio.com.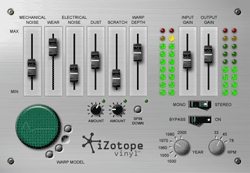 ► iZotope announced the re-release of Vinyl, their free vinyl simulation plug-in. By emulating the characteristics of vintage records and record players, Vinyl is the ultimate lo-fi weapon for anyone looking to add the dirty, dusty feel of a different era to their sound. The new version of Vinyl has been updated to support modern operating systems and audio editing software: the plug-in is now 64-bit compatible on both Mac and PC and supported formats now include AAX and VST3. Vinyl also features a new Spin Down button that simulates slowly stopping playback of a record, with results that can range from a dramatic "record stop" to a subtler nuance on an individual instrument. All of Vinyl's classic features allow a user to simulate the dust, scratches, crackles, pops, and warping of a worn record as well as the mechanical noises of a turntable. In addition, the Warp features are now available for use in all supported plug-in formats. Download Vinyl for free at www.izotope.com.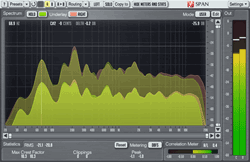 ► Voxengo SPAN version 2.10 update is now available for download. SPAN is a free real-time "fast Fourier transform" audio spectrum analyzer plugin for professional music and audio production applications. For the most part it was derived from Voxengo GlissEQ dynamic parametric equalizer and reproduces its spectrum analysis functionality. SPAN is available in AudioUnit, AAX, VST and VST3 plug-in formats (including native 64-bit support), for Mac OS X (v10.6 and later), and Windows computers. SPAN also features output level metering with adjustable ballistics and integration time, K-system metering (including calibration K-system metering). SPAN displays level metering statistics, headroom estimation and clipping detection. Correlation metering is available as well.

Also from Voxengo, the new OldSkoolVerb Plus - an algorithmic reverberation plug-in for professional music production applications. This plug-in is an extended version of freeware OldSkoolVerb plug-in. OldSkoolVerb Plus plug-in implements a kind of "classic" stereo reverb algorithm which is technically simple yet optimal. It produces a very clear spatial image that blends well with the mix. OldSkoolVerb Plus offers a comprehensive set of parameters permitting you to achieve various reverbs ranging from plate reverb to room reverb to hall reverb. OldSkoolVerb Plus is suited all kinds of sounds, both percussive, hard-attack sounds like drums and picked guitars, and soft-attack sounds like vocals, piano and pad sounds. In comparison to freeware OldSkoolVerb plug-in, the Plus version features an additional spatialization module which provides additional control over the reverb's spatial image and greatly increases reverb's density. Features include 5 reverb modes, reverb mode editor, preset manager, A/B comparisons and more. www.voxengo.com.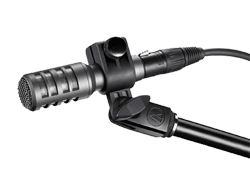 ► Audio-Technica introduces its new Artist Elite® AE2300 Dynamic Cardioid Instrument Microphone. The AE2300 features Audio-Technica's proprietary double-dome diaphragm construction, giving it high-frequency and transient response that exceeds typical dynamic microphones. With its rugged, brass metal construction and low-profile design (able to be placed unobtrusively in a variety of applications) and the ability to handle high SPLs, the AE2300 is a versatile performer, able to capture sound from guitar amps, brass and woodwinds, drums and percussion instruments with clarity and precision. The double-dome diaphragm construction allows the AE2300 to maintain directionality across the entire frequency range, with little off-axis coloration (frequency response is nearly identical at 0°, 90° and 180°) for excellent phase cohesion in multiple-mic setups. The microphone is also equipped with a switchable low-pass filter that cuts out harsh, high-frequency noise, such as hiss from a guitar amp or high-hat bleed, without negatively affecting the overall tone of an instrument – an especially useful tool in live settings to get a clear, focused sound. U.S. street price is $269. www.audio-technica.com. ►