By Don Elliot

There's an old Saw that says you can't teach an old dog new tricks.
When it comes to the current as well as the up-and-coming new generation of producers, the opposite is also true... you can teach a new dog some old tricks, because they are true, basic and a solid foundation.
The "saw" here to which I refer is the now infamous "SawStudio" DAW that will make you the legend in your market!
In an effort to understand whether I was a lone wolf in these woods, I contacted a couple of other pros whose work I have always respected for their input. The first is Paul Liebeskind, producer of the Rick Dees Show for many years. The second, Ron Shapiro, whose credits follow him back to Casey Kasem as Director/Engineer ABC Watermark, and up to recent times as PD of KHHT, LA, now President Format 3000, Inc. --- and my credits go cutting a small swath across the country to PD at KIIS-FM and House Voice for KFI/KOST, Los Angeles, and running a Jingle and Production House in LA.
I have been using Saw and SawStudio for almost as many years as it has been out. With each and every update, there was a little tweaking here and there that made it even more magical until it became pristine and attained near perfection.
I often watch with great amusement the length of time it takes for someone to execute a promo, an edit, a voiceover, or especially any long form material on something like Pro Tools. The rendering time alone is enough to make a non-smoker become a smoker... And the ticking clock before a deadline with every tick begins to sound like a jackhammer.
Not with Saw products. When you're finished with the project in SawStudio, there's no rendering time to speak of, it's done! This is one of the many reasons it has been the editor of choice for internationally syndicated shows, like Chris Botti, Chill with Mindi Abair, Caribbean Hot 30, the Rick Dees Show, Top Ten Now And Then, Fox All Access, The Old School 500.
Time is money...speed is almost everything.
The audio quality of SAW is one of the biggest reasons I chose it -- opting to use my ears as the judge instead of peer pressure or "kiss ass corporate policy".
The smooth analog sound of the mix engine compared to the digital harshness of the typical DAW... the non-collapsed stereo field... is a result of the mix engine having been elegantly done using integer math instead of floating point... huge difference from all other DAWs.
It's performance... its design... its Workspace view with speed shortcut programmable F-Keys... its automation design... Big factors.
The bottom line is that when my performance and reputation are on the line, not to mention a deadline, I'm going to trust it to what sounds the best, and what I can rely on to be more than competitive… & that means, to be a winner.
I don't know what to tell you about the interface. If you are dealing with bringing analog sound into the DAW, then it's a crucial link because as they say, the chain is only as good as its weakest link, but that's beyond the scope of this question. We are only dealing with the DAW itself right now. The digital material at this point has already been brought into the computer for mixing, additional recording, mastering, editing, or any of the other tasks asked of it.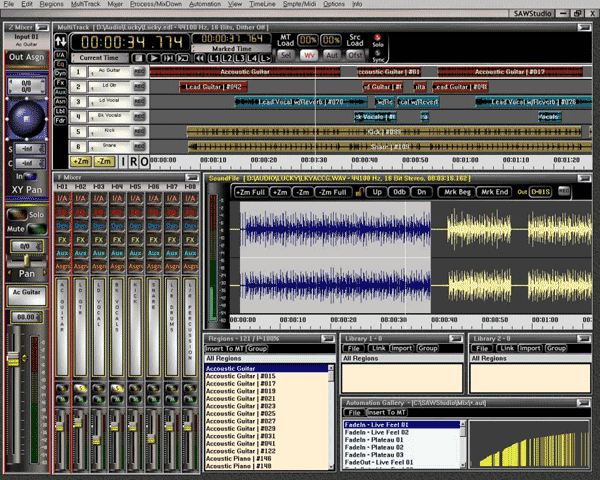 Paul Liebeskind, Production Manager Dees Creations, added:
As the engineer for The Rick Dees Weekly Top Forty since 1984, I've used every available audio device to help me make the show sound full and present. When the digital era began, I started using SAW Studio after trying other digital interfaces. After 20 years I am still using SAW based on its processing and lightning fast rendering capability.
I have the F keys set to 10 different mix windows of various tracks and libraries. I'd say it takes about 30 seconds to render an hour.
Ron Shapiro continues:
A huge advantage over all other DAWs is the transportability of the program. I have SAW Studio installed on a portable hard drive. As an independent producer I produce programs at various locations (home studio, hotel rooms, other studios) so my workstation is wherever I am. I can plug my portable drive into any PC and continue my projects.
If the drive letter happened to change between computers, it's only one click to re-path my session.
Additionally, you can save an unlimited amount of preferences, customized for the computer, or monitor you're using at the time. That, in combination of unlimited F-Key Multi-Track view combinations, makes SAW the perfect choice for producing award winning programs and promos.
Another time saver is SAW Studio's Library windows. Depending on the version of SAW, you can have up to 6 library windows open at one time. They can display whole directories, or regions in a previously saved EDL. You can have your songs in one list, voice tracks in another library, SFX in a third and so on. In other DAWS, you have to search for each sound, then import them into a single list of elements. With thousands of sounds, that's just not practical. In SAW Studio, just drag and drop elements from those libraries right into your multi-track window.
I've used SAW products since the mid-nineties, and I cannot conceive producing long form programming without SAW. It is simply the best sounding, the easiest to use and has the quickest mix down processing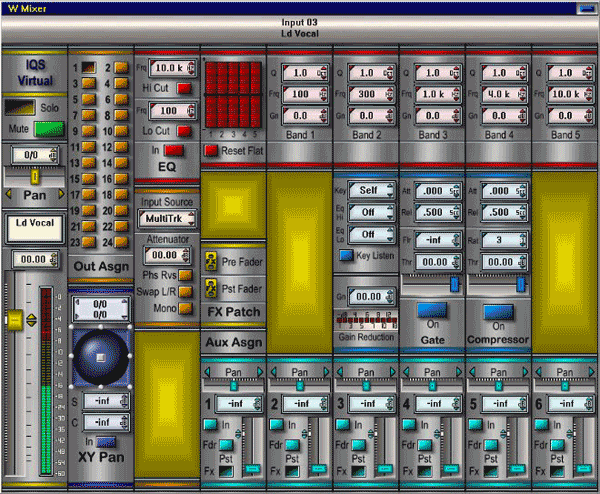 So will I stake my career that Saw is cutting-edge?
You bet… Not only for an old dog, but for all the young pups as well, who must competitively stay ahead of the pack!
Happy cutting…
Woof! Woof!"
"Don Elliot is the owner of Levine/Schwab Broadcasting, 1500 AM in Los Angeles. He welcomes your correspondence at This email address is being protected from spambots. You need JavaScript enabled to view it.."