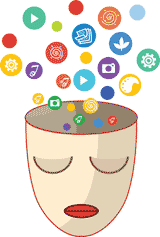 By Juliette Nicholls
As an audio producer, who writes and creates new trails every day, sometimes it's straightforward and at other times, it's staring at a blank piece of paper with a deadline of an hour and nothing at all comes into your mind. But creativity – the phenomenon of constructing something new and valuable – can be taught. And although some of us see ourselves as more creative than others, creative energy has been proven to be a muscle that can be flexed like any other. So I've taken some time recently to really think about what "being creative" is and how we can be more creative each day.
Creativity essentially comes from contradictions. By this I mean thinking up all the obvious answers, or in this case, hooks for scripts, then looking at their polar opposites for inspiration, or breaking habits and questioning the things you do unquestioningly.
It can be easy to think of a trail as a puzzle, where the pieces only fit one way. This might be the way you've been doing it for weeks, months or even years. With promotional trails, you've got the client name and message, the station name and the call to action to fit, before you start on anything particularly creative. So rearranging where you normally position these will immediately make it sound distinct.
Some people say, "Be obvious. Be boring. Be lazy." What you see as obvious, boring and lazy may not be the same as the next person. It's a place to start, but the first idea that comes to you won't always be your best. Using that immediate notion to bounce new ideas off is one way to grow it into something totally different.
Writing all the information out in a simplistic way is also a good place to start. If I've got no ideas at all, I write as though I'm speaking to a five-year-old – in unassuming language with nothing flowery. And move forward from there.
"Homospatial thinking" is one way of bringing out that elusive creative energy. It's the act of being constantly contradicted. So when an idea for a script pops into your head, saying to yourself 'no they wouldn't' or 'no it doesn't' forces your brain to look in other directions.
Inspiration is the key to creativity. And you can move yourself physically to get that. If you sit staring at the same wall, at the same desk, surrounded by the same people, it's unlikely that anything will change. Sometimes it's as simple as choosing a relaxed and open location. At Global HQ in London, we're lucky enough to have a fab roof terrace, from where I love to write scripts.
It's important to remember that everything around us is inspiration, too. Even if you are sat in a blank room with a computer, a piece of paper and pen, someone invented those things. Somebody thought up how to build the floor you're standing on. Some intelligent individual considered the ingredients needed to make that paper and that pen and figured out that one makes a mark on the other. Language formed over time.
However, having a mechanism to focus the mind could be even better. I recently started compiling a mood board in my studio. It's a corkboard now covered with scraps from newspapers, quotes from magazines and photos I've found online. Anything that I think relates to or embodies our listeners makes it on to the board. When I'm at a loss for a creative idea, I use the mood board to spark off something new.
Promo trails are all about connecting to listeners in real life. That means knowing what they're about and letting it show. First off, research is essential. Check out what listeners say via social media and on websites. You could even go along to station events and meet them for real.
I started out in commercial radio working on the promo teams for Heart and Capital, and I really think that all programmers should give it a go at some point in their careers. The promo teams are the only ones who get to really engage on a massive scale with the people who tick boxes at RAJAR and keep us all going!
Once we know what our listeners do with their lives, it's often doing those things ourselves that keeps fresh ideas flowing. It might be as simple as heading to the cinema to see something a bit different, going on a family day out or a gig that you wouldn't always pick first.
Creativity comes from doing creative things; so if you're lacking inspiration, try something different to bring out that flair. An art class, dance or photography could nurture your creative energy. Curiosity and risk-taking are common traits of 'creative' people, so don't be afraid to try something new.
And if all else fails, ask other people for their ideas and opinions. It could trigger something new and great. I probably wouldn't suggest we go so far as to follow Pablo Picasso's advice though: "Good artists copy, great artists steal."
♦
Juliette Nicholls is the Imaging and S&P Producer at The Heart Network – Global Radio, London, England. She welcomes your correspondence at @JulesNicholls and This email address is being protected from spambots. You need JavaScript enabled to view it..