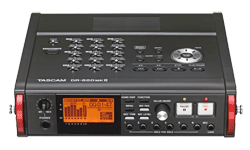 ► TASCAM's DR-680mkII updates the breakthrough 8-track field recorder with recording, storage and power enhancements. Developed based on customer feedback, the new model upgrades op amps and other components for better sound quality during recording. The digital clock has also been updated for tight synchronization with video recorders. The distortion-proof Dual Recording feature has been implemented as well, recording a copy of your audio at a lower level as a safety track. In addition to recording features, the card slot has been upgraded to accept SDXC cards up to 128GB. Lithium batteries are now supported for extended concert or field recording sessions. The TASCAM DR-680 is a portable recorder that records up to 8 tracks (or six discrete tracks and a stereo mix) at 96kHz/24-bit resolution. Six microphone inputs with phantom power are available for multi-channel or surround recording. A S/PDIF stereo digital input and output provided, as well as six discrete line outputs. It records WAV, Broadcast WAV or MP3 format, and stereo 192k recording is also available. Two different cases are available. The DR-680mkII is available for an estimated street price of $599.99.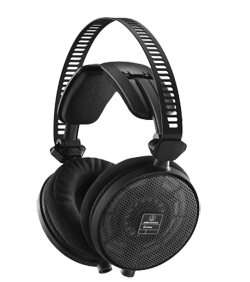 ► Audio-Technica introduced the ATH-R70x Professional Open-Back Reference Headphones. The ATH-R70x is Audio-Technica's first professional open-back reference headphone, joining the new ATH-M70x in A-T's flagship professional headphone lineup. Featuring Audio-Technica's comfortable, self-adjusting 3D Wing Support Headband Design that adapts to automatically fit any wearer with no need for adjustment, the R70x also has breathable fabric ear-pads, providing prolonged comfort for continuous use in professional environments. The ATH-R70x employs high-efficiency magnets and a pure alloy magnetic circuit design, reducing distortion and ensuring accurate and extended high frequency response. Use of its carbon composite resin improves structural rigidity to provide detailed transient response. The headphones' acoustically transparent aluminum honeycomb mesh housing provides a natural and spacious open-back sound. The ATH-R70x's feather-light weight (approx. 210 g w/o cable), combined with robust construction, is perfectly suited for professional use. It also features a unique dual-sided detachable locking cable that is L/R signal-independent, always ensuring proper stereo orientation. ATH-R70x Specifications: Driver: 45 mm; Frequency Response: 5-40,000 Hz; Maximum Input Power; 1,000 mW; Sensitivity: 98dB at 1 kHz; Impedance: 470 ohms. The ATH-R70x will ship in March 2015 with a U.S. MSRP of $489.00. www.audio-technica.com.

► iZ Technology Corporation announces RADAR studio (patent pending). In addition to its best-in-class sonics, unparalleled build quality, and simplicity, RADAR studio now runs DAW software, natively. Shipping with Pro Tools* and Harrison Mixbus, RADAR studio creates an new category of digital audio recording technology: the integrated audio appliance. "Recording is a daunting task. Music producers must research and choose computers, software, audio and sync interfaces, hard drives, and unwieldy digital interface cabling and integrate them all into their studio," says Barry Henderson, President of iZ Technology Corporation. "RADAR studio is a turnkey solution that makes recording as easy as turning on the power and hitting the record button. The best hardware and your favorite software now seamlessly work together in one box to deliver the highest sound quality. Easy." RADAR systems are the choice for multi-track recording and playback in recording studios, scoring stages, theatres, and post-production houses around the world. RADAR studio Key Features: Runs Pro Tools - track, mix and automate, using all plug-ins and features of native DAW software; Simplicity - just arm tracks and hit record; Workflow - integrate iZ Session Controller and MeterBridge for a traditional studio feel; Customizable - configurable I/O, drive bays, external media, DSP cards, and peripherals. www.izcorp.com.
► Mackie introduced the new DL32R 32-Channel Wireless Digital Mixer with iPad Control, a powerful digital mixing system completely controlled wirelessly from Mackie's Master Fader™ iPad®app, freeing users to get in the mix like never before. Featuring complete wireless control over everything, including fully-loaded DSP and multi-track recording/playback, you can control everything from anywhere with the DL32R. The Mackie DL32R features a mix of flexible, professional I/O in an ultra-compact 3U rackmount design. Each of the 32 inputs (24 XLR, 8 XLR/TRS combo) feature Mackie's all-new Onyx+™ recallable mic preamps, with remote control over preamp gain and phantom power. Fully-assignable using the Master Fader control app, there are 14 XLR outputs great for anything from stage monitors to matrix outputs. The front panel also features a stereo AES digital output for connecting gear like speaker processors. A dedicated stereo monitor output is ideal for connecting an in-ear monitor system for detailed listening from anywhere in the venue. With complete wireless control of the system using Mackie's Master Fader iPad app, a new world of mixing possibilities opens up. There is no longer any need for a fixed FOH position. Place the mixer where it works best - be it next to the stage, backstage or even tucked away in a utility closet. This can also eliminate the need for an expensive, bulky analog snake. The DL32R does away with troublesome FOH positions such as under a balcony, behind a pillar, etc. The user can tune the room right from the problem spots and get on stage to ring out monitors or work with the band to dial in the perfect monitor mix. Multi-track recording and playback are critical for professional applications, and the DL32R features two flexible methods for multi-track recording and playback. The first of these is direct to USB hard drive, which is currently a 48 kHz, 24-bit, 24 input by 24 output platform. This will be expanded soon to 32x32 via a free firmware update. The direct-to-disk option delivers unprecedented wireless control over your multi-track recording and playback. An additional USB 2.0 computer audio interface is available for 32x32 recording and playback that can directly connect with any DAW - great for studio applications and rehearsal spaces. Both methods provide the ability to record the band and perform a virtual soundcheck at the next show. The DL32R is loaded with powerful DSP that eliminates the need for racks of outboard processing. Each of the 32 inputs features a 4-band parametric EQ with a separate high-pass filter, plus gating and compression. Four return channels feature dedicated EQ and compression. Each of the 14 aux sends, six matrix busses and main L/R busses feature a 4-band parametric EQ, 31-band GEQ, a compressor limiter and alignment delay. Six subgroups feature EQ and compression. Each processor features Modern and Vintage voicing options, delivering sonic choice to the user. Three separate effects processors with dedicated sends allow for two reverbs and one delay with tap control. 6 VCAs and 6 Mute Groups round out the processing. MSRP $2499.99. www.mackie.com/DL32R. ►
Audiofile announced the release of Triumph 2.5 on the Mac App Store. Built on the success of the company's Wave Editor, Triumph 2.5 represents the next generation in audio editing, mastering, sound design, podcasting and post-production with new features, powerful DSP and a refined workflow. Audiofile has improved workflow efficiency by redesigning the Render Assistant with the ability to render and export multiple formats simultaneously, allowing assets to be auditioned more easily by clicking "play" in an asset's popover, and by adding video import functionality, which will appeal to sounds designers and those working in post-production. Triumph 2.5 also represents a significant step forward for sample rate conversion and dither as it now includes algorithms by Goodhertz, creators of Triumph's digital scrubbing feature and FHX™ headphone listening DSP. Goodhertz' mastering-grade audio sample rate converter combines incredible sonic performance with unmatched speed and efficiency for a nearly ideal frequency response, preserving high frequency content and eliminating aliasing. Goodhertz dither is a custom-tailored noise shaping algorithm that, rather than relying on noisy peaks or drastic high frequency shaping, always remains smooth and natural sounding while preserving every possible detail of the audio. Other additions and enhancements to Triumph include: Greatly improved performance and stability; Optimized for OS X 10.10 Yosemite; Enhanced editing of individual channels in the Waveform View; Improved SoundCloud integration. Triumph 2.5 is now available on the Audiofile website for $79.99. Triumph 2.3.2 is available on the Mac App Store for $79.99. www.audiofile-engineering.com/triumph/.
► Audio professionals can now benefit from the addition of LCn Loudness Correct to TC Electronic's arsenal of loudness tools – either as a Pro Tools plug-in or as a complementary stand-alone version with watch folder capability for automatic batch-normalization of multiple audio files. LCn is available for stereo or 5.1 surround - LC2n and LC6n respectively. These days, hitting the right loudness target is essential whether the delivery platform is HDTV, Mobile TV, podcast, radio, iTunes, Spotify, etc. and LCn makes this as easy as clicking a button or dragging a file to a folder. The plug-in version allows Pro Tools users to apply faster-than-real-time, two-pass, off-line processing from within their host, while the stand-alone version runs on PC and Mac. Drag and drop their audio files into a user-defined target folder for fast and easy loudness normalization and true peak limiting. The new, normalized file will automatically be created in another user-defined destination folder, and the application can be set to automatically delete the original file or keep it in the watch folder. Another practical feature is the "traffic light" indicators to quickly see whether or not a file is compliant with the standard chosen. Users may even paste multiple audio files into the watch folder, making the LCn a highly efficient loudness batch processor. Finally, the watch folder feature also works across a networked system, so users could install it on a central server and simply drag their audio files to it from any computer on the network. TC Electronic' Brickwall 2 True Peak Limiter is an integrated part of LCn – complete with various true peak limiter profiles and linking functionality. For broadcasters who deliver to multiple platforms such as HD TV and Mobile TV, it is essential to be able to hit two very different loudness targets – typically -23/-24 LUFS and -16 LUFS. In that process a true peak limiter is absolutely key and with Brickwall 2 handling the peaks, audio quality is kept at its finest regardless of the delivery platform. Pricing: LC2n: $299; LC6n: $699. www.tcelectronic.com.
► Dynaudio Professional announced the introduction of two new brackets for optimal installation, designed specifically for the BM mkIII Series of monitors and Dynaudio AIR 6. The brackets are designed and manufactured by König & Meyer in Germany, and the two new Dynaudio mounting brackets offer maximum reliability as well as flexibility to place Dynaudio Professional monitors anywhere. Quality is always top-notch and the new brackets are made of powder-coated steel, and an aluminum construction with 0 - 30 degree vertical and +/- 45 degree horizontal adjustment options deliver the optimal solution for most studio settings. "I am very excited that we can now offer production and broadcast professional everywhere a solution that allows them to install anything from stereo to various multichannel listening setups with BM and AIR 6 monitors easier than ever before," says Fred Speckeen, Global Business Manager for Dynaudio Professional. Pricing: Wall Mounting Bracket: 129 EUR/99 GBP/169 USD. Ceiling Mounting Bracket: 129 EUR/99 GBP/169 USD. www.dynaudioprofessional.com. ►