When I was PD at KIIS-FM many years ago, my favorite two features were "Kiss Kouple and Kiss Kousins". Indulge me… It'll be worth it, and I promise you a very rewarding surprise ending here.
The feature called "Kiss Kousins" was promoted with the intro "Kiss Kousins Share a Hit". It was a seg of two artists singing the same song. We would play the cover first, with the powerful payoff delivering the implied promise afterwards with the original hit. If you think about it, it just doesn't work the other way around because the listeners would then be comparing after-the-fact with how much better the original was. If you played it the way we did, playing the cover first, you are subliminally thinking of the original and kind of longing for it -- hence the pay off with the double punch and getting to hear the original immediately afterwards. Great flow.
The second feature was actually the opposite. A "Kiss Kouple" was two different songs by the same artist, sort of a double play on steroids.
And last but not least, to describe the overall format at the time in general with our sublogo: "Yesterday, tomorrow, today… three-way Kiss". Notice there is no chronology here. It was designed with flow in mind.
Song one in the set was a powerful classic. The second tune would be new music but something we weren't risking much on because it would be a cut charted as upwardly moving, ranked somewhere between 30 and 50. The third tune in the flow would be a current chartbuster probably in the top 10. Notice the intent here: The "unfamiliar" piece was in the middle surrounded by established hits. The format was copied later on and renamed by someone as "the magic format". It just worked.
We had a lot of flexibility and ability to come up with things you couldn't hear on other stations that we designated as "ARB hooks". We'd really push these during ratings.
My favorite of all was an idea I had to put Elvis Presley and Linda Ronstadt together, sort of like a football fantasy thing because Elvis had since passed. It was inspired when I heard Linda's "Love Me Tender". I couldn't help myself… my razor blade started shaking like Elvis's legs, or an Irishman's hands waiting for the bartender to deliver.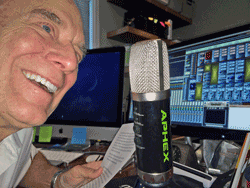 So here in all its radiant glory, is the original edit, done by me at the KIIS-FM Production Studio, early '80s, with a razor blade and flying in tracks, overdubbing from a 2-track:
The concept sparked a flurry of copycat duets with "ghosts", which were huge hits. The first, most successful being Natalie Cole, singing with her late father, Nat "King" Cole.. The tune? "Unforgettable".
And fast forwarding to today, the beautifully done Barbra Streisand Duets album -- a particularly well produced cut is the Elvis and Linda duet, "Love Me Tender". Barbra/Elvis: Done at Capitol, 2014:
https://m.youtube.com/watch?v=NFXXMHidTBI
♦
Don welcomes your correspondence at This email address is being protected from spambots. You need JavaScript enabled to view it..