By Tom Baker
I may be 18 years old right now, but I know I want to go into radio broadcasting as a job. It may have taken me almost my whole high school career to figure it out, but thanks to my high school's radio station: WLTL LaGrange, I've gotten a plethora of guidance and helpful connections to help prepare me for my future. I'm not even close to the only person who has or is currently benefiting from high school radio; the rest of my classmates at WLTL, and all my fellow teenage broadcasters who will hopefully rule the airwaves one day all have incredible passion and drive to do some incredible things.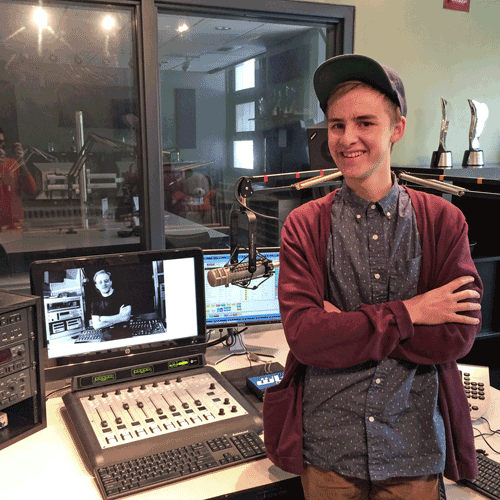 High school radio is a great place to start for someone who wants to get into the wonderful world of broadcasting. There's no doubt that there are a ton of people in the radio industry who started in high school radio. WLTL alone is the original stomping grounds of one of WGN's head engineers, and almost half of 'XRT Chicago's weekday schedule (one of the oldest rock stations in the country). Although high school stations never have the broadcast range of a commercial station, some try to stay relevant by being active in the community, which is something I wish I saw more from other radio stations. The more I see a station's sticker on the bumper of a car or at a live event, the more I would probably listen to that station. I try to make my liners at WLTL as community and school oriented as possible because listeners don't usually mind listening to them and are more likely to stay tuned in.
The best part of high school radio over college is that high school radio doesn't take the same commitment of being a communications major. It took me nearly four years of high school radio to realize I wanted to go into radio as a career. As a result, I have a tough time understanding how people can go to a university to major in broadcasting with no previous experience. It seems like a bit of a gamble to spend all that money on going into something they may not even want to do.
When you step inside WLTL it almost instantly diminishes the stereotype of high school radio you may have. We don't play tapes or CDs in the basement of the high school. I mean, we are in the basement, but we use the ENCO automation system, Axia digital boards, and three fully functional production rooms. WLTL is in fact one of the best high school stations in the country. We've won the John Drury award for best high school station in the nation five times and are tied for first with the most wins.
WLTL is like a playground for students. Our management is made up of students like me who run the station with our teacher, Chris Thomas. If a student walks in and wants to do production with me, they're voicing IDs within their first hour. If they want to do engineering, they're learning the ins and outs of the station as soon as they want to. WLTL is also a part of the Intercollegiate Broadcasting System (unfortunately called IBS) which has helped get contact with a bunch of professionals such as Dan Kelly.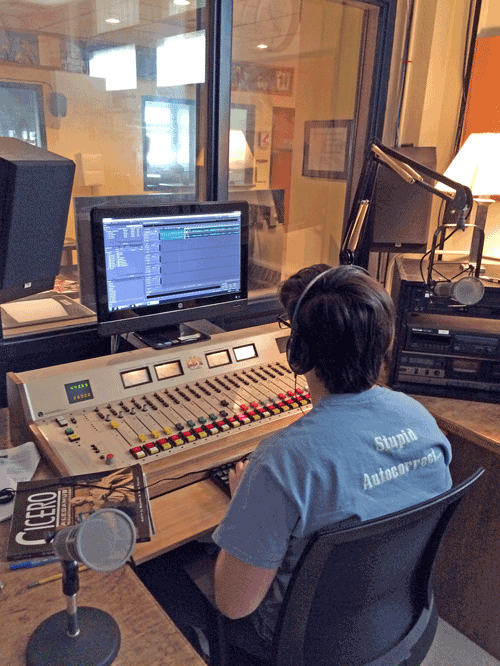 Despite all the advantages that WLTL and high school radio have to offer, the best one is that we are by no means a professional station. We can sit in our lounge area during down times and watch TV or play a Nintendo GameCube that I have hidden within the station. If we acted like a professional station, that would take all the fun and glamor out of student radio and detour people from joining.
Although everything is golden at WLTL, it doesn't mean every high school station is doing as well. High school radio is a dying breed. It's not occurring overnight, but I hear more about high school stations shutting their doors than opening them. My school's station is very fortunate in that we've never had to live our worst nightmare of being inspected be the FCC (knock on wood). Whenever I walk in the doors of WLTL, I feel like I'm in a cool clubhouse. It's like a little oasis from school at school. I can't imagine my world without WLTL. I wouldn't know what I wanted to do with the rest of my life, and I also wouldn't be the person you are reading about right now. Everything I've done in radio has been linked to my high school's station. One night, I was researching imaging services and sent an inquiry to Killer Hertz run by the legendary Jeff Thomas (no relation to my radio teacher). The next day, I received a somewhat sketchy email from Jeff asking if I was looking for work, which turned out to be my first freelance gig in radio.
Some of the students at WLTL, including myself, have been producing a public affairs show for AM 1530 WCKG called Study Hall Radio. The show is a one hour news show about things that matter in a high school student's life. Study Hall Radio gives WLTL students an opportunity to build our radio resumes by getting on a commercial station in the third largest market in the US (Chicago).
Despite the FCC shutting down or not renewing licenses to high school stations, today may be the best time to be a future broadcaster. With all of the advances in technology, stations can stay on the air by becoming an internet radio station. Running a terrestrial radio station is a ton of work and money to stay on the air legally, and with advancements like Apple Carplay, that may change the way radio is listened to forever. Mobile apps are also making high school stations more accessible than just an FM frequency with apps like TuneIn that have a bunch of high school stations on them (including WLTL).
In conclusion, high school radio is an important staple in radio that I will always credit as the beginning of whatever career lies ahead for me, not to mention all the professionals who had a similar upbringing, and I urge anyone who is reading this to try to benefit a high school station if there is one near you. Anything you could do would help, whether it's volunteering your time to help the students learn about radio or even just donating to their pledge drive to help them stay on the air, because you never know who can come out of a low power station in a dingy basement of the high school.
■
Tom Baker is a student about to start his freshman year at Lincoln College fresh out of Lyons Township High School in LaGrange, IL where he first started learning the ropes of radio at WLTL, the student-run radio station. Tom will be working as the Production Director at WLNX while he attends Lincoln College. He welcomes your correspondence at This email address is being protected from spambots. You need JavaScript enabled to view it..