► New Releases from Firstcom include: CHAP422 Influenced Guitar - Fun, upbeat acoustic guitar flavors with splashes of world; CHAP423 Musical Mischief Makers - A wonderful little world of creative and quirky tracks with a glitchy angle to them; COHH-13 Iconic and Upscale - High fashion, big time, big production, ultra-glitzy hip hop, R&B, and club styles; DF22 Urgently - Unique sound design and dramatic, highly disturbing cues for the discerning producer. EVO223 Shuffle 11 – Remix - We took some of our personal favorite Shuffle themes and handed them over to producers/remixers/DJs and let them work their magic. The results give content providers another arsenal of jams to create the perfect spot; EVO228 Beautiful Gadgets - Music for those wonderful inventions that make life better; EVO229 Inspire 3 - Inspiring, hopeful, and positive building themes and underscores; EVO230e Exquisite Scores - An introspective musical portrait of the passing of seasons and the passage of time. Drama, documentary film and visual storytelling. Audition these and more at www.firstcom.com. Also from FirstCom Music, a new partnership with Universal Music Group's world-renowned classical label Deutsche Grammophon. Launching with 30 albums, Deutsche Grammophon Production Music will feature incredible classical works from the legendary Bach, Mozart and Beethoven to Chopin and Debussy, compiled in a media friendly format and easy to license for content producers and editors around the world. Additional albums are scheduled for 2015 with other exciting projects on the horizon. www.firstcom.com.
► Killer Tracks has added Volta Music to their catalog. Volta Music is an epic label specializing in music for theatrical trailers, video game advertising and drama. More at www.killertracks.com.
► ­iHeartMedia recently announced the launch of "iHeartMedia SoundBoard," a one-of-a-kind audio-centric branded entertainment studio. iHeartMedia SoundBoard will invite brands to collaborate with iHeartMedia's portfolio of talent and personalities to produce original long and short-form audio, video and experiential content that moves seamlessly across radio, apps, and events, creating the next generation of brand storytelling. iHeartMedia SoundBoard productions will each be designed from the ground up, uniquely pairing the right brands, creators and talent to tell stories in new ways designed to take particular advantage of the power of audio to engage, entertain and capture the imagination. iHeartMedia will tap its network of on-air personalities, from national names like Ryan Seacrest and Elvis Duran, to the many local personalities who resonate in their communities -- and its access to innovative thinkers in music and entertainment -- to develop new original productions that combine the power of live radio with richer storytelling across platforms. The new iHeartMedia SoundBoard Studio will be led by John Sykes, President of iHeartMedia's Entertainment Enterprises Group, a media pioneer who helped to create events like the iHeartRadio Music Festival and the iHeartRadio Music Awards, served as a member of MTV's original start-up team and President of VH1, and is a former record label President, music publishing executive and artist manager; Gayle Troberman, EVP and Chief Marketing Officer of iHeartMedia, a former advertising agency executive who founded the web's first branded entertainment capability at MSN; and Vanessa Adamo, Senior Vice President of Entertainment Enterprises and former branded entertainment executive at Starcom MediaVest Group's Liquid Thread. www.iHeartMedia.com.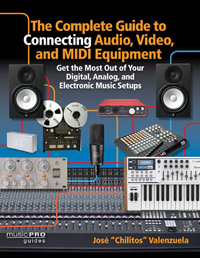 ► New from Hal Leonard Books: While there are very sophisticated hardware and software options available to home and professional recording engineers, DJ's, EDM music producers, and post production professionals, connecting the equipment correctly can be overwhelming and may not be covered in product manuals. This is where The Complete Guide to Connecting Audio, Video, and MIDI Equipment comes in. This comprehensive, step-by-step guide reveals the best ways to correctly connect studio equipment with over 30 diagrams covering home, professional, post-production, electronic music, and DJ studios. Each section explains a number of studio configurations, highlighting useful applications in music recording and post-production. This reference book by renowned Mixing Engineer and Avid Certified Pro Tools instructor José "Chilitos" Valenzuela makes it easy to understand specific connection considerations and technical requirements for all types of working studio set-ups. $39.99 (US). www.halleonardbooks.com. ▲