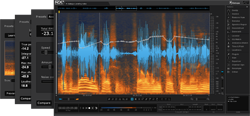 ► iZotope, Inc. has released the next generation of its audio repair toolkit, RX. iZotope's software transforms flawed audio into pristine, usable material by removing noises, distortions, reverb, and other common audio problems. RX 4 and RX 4 Advanced incorporate new workflow-optimizing functionality, leaving more time for creativity in audio and video editing. For anyone in audio post production, broadcast, dialogue editing and mixing, independent filmmaking, or music production, RX 4 can make poorly recorded audio intelligible and ready for primetime. RX 4 Advanced is the result of iZotope's collaboration with working professionals to identify new ways of improving workflows. They've translated these insights into technologies that address common needs and reflect the way people naturally want to work. New features in RX 4 move beyond audio repair—letting professionals enhance their audio. New features include: Clip Gain: Easily adjust and balance the volume of vocals and instruments with this new non-destructive editing feature. Dialogue Denoiser: Reduce distracting background noise from dialogue and vocals in real time (now a standard feature with both RX 4 and RX 4 Advanced). RX Connect: Streamline the editing process with a round-trip workflow compatible with industry-standard hosts. For audio professionals in post-production, music production, and mastering, RX 4 Advanced boasts additional time-saving features. Leveler: Automatically balance the volume of a mix, freeing more time for creative mix decisions. Ambient Match: Match the environment noise or room tone of two different audio recordings with ease. EQ Match: Ensure a consistent-sounding mix by matching multiple recordings with varying sonic profiles. Loudness: Process whole program mixes or segments to comply with international industry standards and network-specific guidelines. RX 4 is $349 / €285 MSRP and RX 4 Advanced is $1199 / €919 MSRP. Both RX 4 and RX 4 Advanced can be used as a standalone audio editor or as a plug-in. Supported plug-in formats include 64-bit AAX (Pro Tools 11), RTAS/AudioSuite (Pro Tools 7.4-10), VST, VST 3, and Audio Unit. www.izotope.com.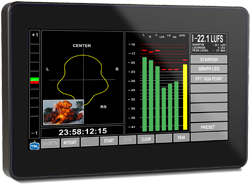 ► TSL Products has announced the launch of the PAM PiCo Touch, a 7" multi-touch audio, loudness and logging meter that enables broadcasters to prove their audio signals are compliant with all the latest standards and regulations, as well as putting high-quality metering within reach of anyone involved in sound production, from broadcast production operators to music studio technicians and record producers. The new PiCo Touch allows real time display and logging of all relevant loudness parameters, True Peak level and corresponding peak channel identification, as well as critical integrated loudness information. The new meter provides all the benefits associated with a simple-to-use, dedicated hardware solution. The PAM PiCo Touch features a multi-touch screen that combines the familiarity and ease of use of consumer touch screen technology with the sophisticated features required for today's TV, Radio and Music Sound Production. The 7" screen allows users to see multiple metering and measurement elements simultaneously whilst the video confidence screen size can be scaled up and down in a similar way to a smartphone or tablet. PAM PiCo Touch features user assignable soft 'buttons' for favourite presets that recall entire configurations, enabling instant switching between monitoring modes. The PAM PiCo Touch also features a unique automated logging function not available on any comparable product. This saves considerable time by eliminating the need to do a full end to end logging pass each time an edit is made – the user simply completes a single pass of the entire project in conjunction with timecode in and out points, then makes the necessary edits followed by a measurement pass over each edited section. The PAM PiCo Touch then recompiles the measured values for the full project, automatically replacing the edited sections within the timeline and producing overall loudness data for the final piece. In addition, the PAM PiCo Touch includes an HDMI external display output that allows the user to plug it into any monitor and view a blown up version of the complete screen. www.tslproducts.com.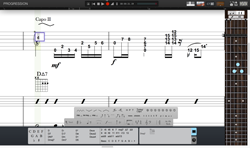 ► PreSonus® is shipping Progression™ 3, a major upgrade to its popular composing software for guitar, bass, and drums. This new version makes it easier to write your ideas quickly and includes an enhanced chord library, new effects from PreSonus Studio One®, a Capo feature, and many notation and publishing improvements. Progression and its sibling product Notion are the only composing and notation applications that let you create and edit with, and exchange files between, Mac, Windows, and iPad. The user interface has been redesigned to more resemble Studio One and other PreSonus software, and Progression 3 adds PreSonus Native Effects™ Limiter, Compressor, and EQ plug-ins. Notation improvements make Progression even faster and easier to use, including an enharmonic spelling tool, cross-staff notation, layout improvements, and a new international shortcut sets. You also get an enhanced chord library with more library chords, user-created chords, and recent-chord recall. The new Capo feature will be especially welcome for guitarists. Progression 3 also adds Mac Retina display support and Windows 8 touchscreen optimization. Progression 3 is available in English (U.S. and UK), French, German, Japanese, and Spanish (Latin American) at an expected MAP/street price of $49. www.presonus.com.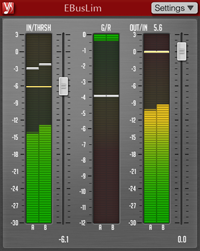 ► Voxengo announced the release of EBusLim, a brickwall peak limiter and loudness maximization plug-in for professional music production applications, available in AudioUnit, VST and VST3 plug-in formats (including native 64-bit support), for Mac OS X (v10.5 and later), and Windows computers. EBusLim implements a single EL-4-based limiter mode originally designed in Elephant mastering limiter plug-in. This mode is suitable for bus, drum bus, master bus and track processing. The design idea behind EBusLim is to produce an extremely easy-to-use yet effective limiter. Since EBusLim only features a single processing mode the processing latency was reduced down to 0.5 milliseconds permitting the use of this limiter as master bus overload protector for both stereo and multi-channel applications. www.voxengo.com.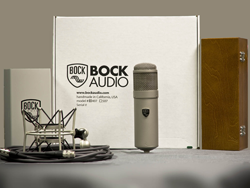 ► Just as he has captured the sound of the vintage Telefunken 251 in the Bock 251 and the sound of the vintage Neumann U47 FET in the Bock iFet, studio microphone genius David Bock has now captured the sound of the vintage Neumann U47 tube microphone in the new Bock 407. As with Bock's other products, TransAudio Group will distribute the Bock 407 in the United States. Studios and individuals who want the timeless 47 sound will find it in the Bock 407 at half the price of a vintage unit and without the reliability and serviceability issues of vintage microphones. The Bock 407 borrows its power supply and amplifier from the flagship Bock 507 and adds a custom k47-type capsule. The microphone has a cardioid pickup-pattern and ships with a remote power supply, a professional spider-type shock mount, and a custom twenty-foot cable that connects the microphone to the power supply. In addition to its signature "big vocal" sound (both male and female), the Bock 407 will shine a beautiful light on brass, strings, and percussion. It can also serve as the whole solution for small ensembles or simple guitar and vocal performances. The BOCK 407 is now shipping. MSRP: $7,175.00. www.transaudiogroup.com.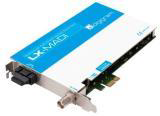 ► Digigram recently showcased the new LX-MADI PCI Express® (PCIe®) sound card, the latest addition to company's range of sound cards engineered for broadcast applications. Digigram designed this card to provide radio and television broadcasters with low-latency performance and reliable multichannel synchronous audio PC connectivity in high-density audio production and automation applications. "With the new LX-MADI PCIe card, users can establish a high permanence-of-service bridge between the PC-based content management world of digital audio workstations and automation systems and the legacy synchronous audio world based on AES10 standard Multichannel Audio Digital Interface (MADI)," said Pascal Malgouyard, head of product marketing at Digigram. "This approach simplifies the systems required to support key broadcast processes while ensuring the continued quality and reliability of audio signals." Equipped with an optical MADI interface, Digigram's new LX-MADI PCIe sound card supports a 64/64 I/O channel count with low roundtrip latency down to 3 milliseconds. An embedded 64x64 matrix gives users routing and direct monitoring capabilities, along with record and play functions. Because the LX-MADI PCIe sound card is a hardware solution, it offers high stability regardless of the computational load presented by other applications running on the host system, such as editing, processing, ingest, and playout. The new Digigram LX-MADI PCIe sound card will be shipping by the end of 2014. www.digigram.com. ►